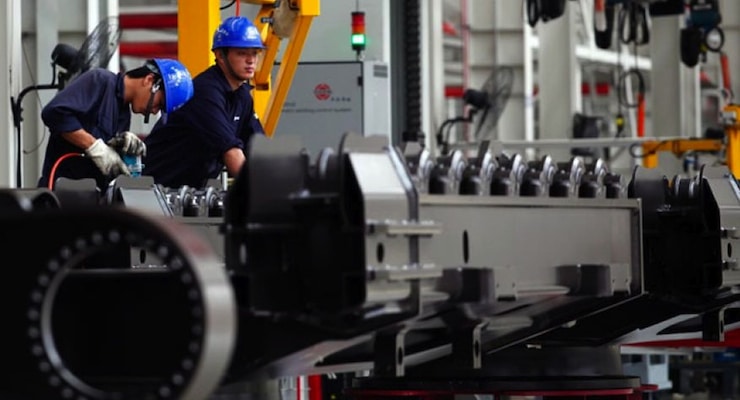 The Commerce Department reported Wednesday that durable goods orders were flat in November, though economists surveyed by The Wall Street Journal expected a 0.6% decline.
The disappointing durable goods orders–which tracks demand for refrigerators, bulldozers, fighter jets and other products designed to last at least three years–showed a key measure of business investment fell in what was the latest sign of weak demand in the U.S. manufacturing sector.
In fact, military spending accounted for all of the month's gain and headline figure. Orders for defense capital goods absolutely skyrocketed by 44.4% last month, including a 46.9% gain in orders for defense aircraft and parts. Excluding defense, durable goods orders actually declined 1.5% in November after increasing 3.0% in October. Excluding the volatile transportation category, durable goods orders fell 0.1% in November from the prior month after rising 0.5% in October.
The manufacturing sector, which accounts for roughly 12% of the nation's economic output but disproportionately offers higher-wage employment, has essentially been on life support for the majority of the year. It is expected to close out the year limping along.
The Commerce Department report follows manufacturing sector data in the mid-Atlantic and Northeast regions. The Philadelphia Federal Reserve said this month the Manufacturing Business Outlook Survey covering the mid-atlantic region tumbled to -5.9 in December from 1.9, falling back into contraction. The Empire State Manufacturing Survey, the New York Fed's gauge of manufacturing activity in the Northeast region, remained stuck in contraction territory, as well.
Further, the Institute for Supply Management (ISM) Manufacturing Business Survey, which gauges manufacturing activity nationwide, also fell into contraction to 48.6 in November from 50., well below expectations.
Meanwhile, durable goods orders in the first 11 months of 2015 fell 3.7% on the year.