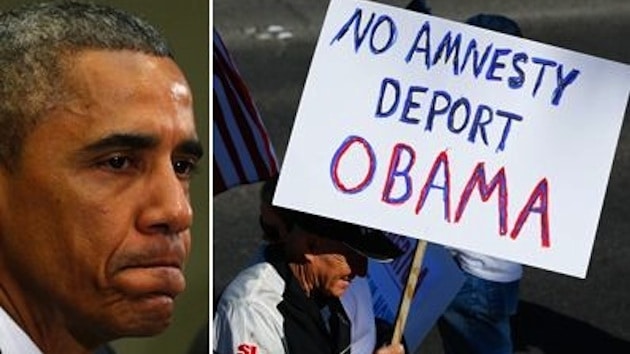 A federal judge ruled Tuesday that large parts of President Obama's executive immigration order are unconstitutional, in the first court opinion to address Obama's controversial actions.
U.S. District Court Judge Arthur Schwab in Pennsylvania said Obama's immigration order was effectively "legislation" handed down from the Executive Branch, thus invalid and unconstitutional.
"President Obama's unilateral legislative action violates the separation of powers provided for in the United States Constitution as well as the Take Care Clause, and therefore, is unconstitutional," Judge Schwab wrote.
However, it is unclear what impact, if any, the opinion might have other than adding momentum to critics' legal argument, because  it did not come in response to a challenge to Obama's immigration policy announcement. In a separate lawsuit, half of the country is united against the order that would grant roughly 5 million illegals legal status, a development that came just a week after the Republican-controlled House voted to strip the order.
Schwab handed down his opinion in UNITED STATES vs. ELIONARDO JUAREZ-ESCOBAR, which was a response to a criminal case against the Honduran illegal immigrant (Elionardo Juarez-Escobar), who was previously deported in 2005 and caught again in the U.S. earlier this year.
Juarez-Escobar had pleaded guilty to "re-entry of a removed alien," but the court also examined the impact of Obama's past and present immigration actions on the case. While Judge Schwab said it is possible the actions might apply to Juarez-Escobar's situation, it doesn't matter, because he determined the executive actions, themselves, are unconstitutional.
The president's immigration action went beyond oft-cited "prosecutorial discretion," as "discretion" is only granted to the administration after illegal immigrants are prosecuted and the actions taken are specifically prohibited by laws already passed by the U.S. Congress.
Judge Schwab, a George W. Bush appointee, also said "discretion" is only allowed on a "case-by-case" basis, but Obama's order is a "systematic and rigid process" that applies to a "broad range" of decisions immigrants. Also, the judge ruled that the action gives illegal immigrants "quasi-United States citizens," and goes far beyond deferring deportation by letting beneficiaries apply for work authorization.
"Congressional inaction does not endow legislative power with the Executive," the judge wrote, which was a citation of Obama's argument. Obama argued that he was proceeding with executive action after Congress failed to act on comprehensive immigration legislation, but that's just not how the Constitution was written.
The Obama administration via the Justice Department tried to shrug off the opinion.
"The decision is unfounded and the court had no basis to issue such an order," a DOJ spokesperson said in a statement. "No party in the case challenged the constitutionality of the immigration-related executive actions and the department's filing made it clear that the executive actions did not apply to the criminal matter before the court. Moreover, the court's analysis of the legality of the executive actions is flatly wrong. We will respond to the court's decision at the appropriate time."
Critics, however, say this is just the first in a slew of open-and-shut decisions on what is clearly an unconstitutional act by the president.
"The President's unilateral executive action suspending the nation's immigration laws for roughly five million illegal aliens has received its first judicial test, and it has failed," John Eastman, law professor at Chapman University, said in a statement.
Meanwhile, the states suing Obama over his unilateral amnesty order now include Alabama, Arizona, Arkansas, Florida, Georgia, Idaho, Indiana, Kansas, Louisiana, Maine, Michigan, Mississippi, Montana, Nebraska, North Carolina, South Carolina, North Dakota, Ohio, Oklahoma, South Dakota, Texas, Utah, West Virginia and Wisconsin.
U.S. District Judge Andrew Hanen last week was assigned to hear the legal challenge. Judge Hanen, who was appointed to the bench in 2002 by President Bush, said the Obama administration was involved in the "criminal conspiracy" involving defendant Mirtha Veronica Nava-Martinez, a mother who paid $6,000 to smuggle her child from El Salvador to Virginia.
(READ MORE: Obama Talks Immigration As Half The Nation Joins Lawsuit Against Executive Order)
The Obama administration is also urging dismissal of a lawsuit brought by an Arizona sheriff, Joe Arpaio, who contends that President Barack Obama's program serves as a magnet for more illegal entries into the U.S. Arpaio says the new arrivals will commit crimes and thus burden his law enforcement resources.
In a court filing late Monday, the Justice Department told U.S. District Judge Beryl Howell that the sheriff's theory is speculative, "meritless" and unsubstantiated. They said that Arpaio has failed to show he will suffer any injury at all from the federal government's program, thus leaving him without standing.