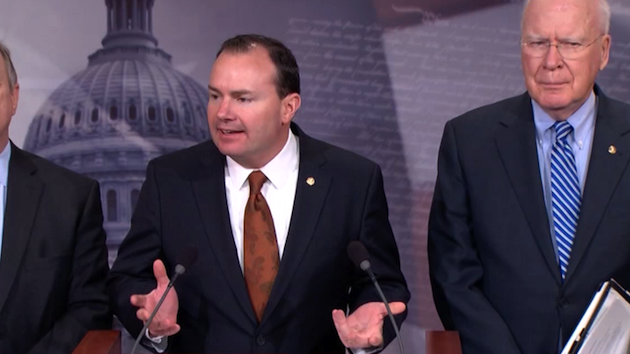 Sens. Patrick Leahy, D-Vermont, and Mike Lee, R-Utah, are making a rare bipartisanship push in support of the Electronic Communications Privacy Act of 2015 (ECPA).
Sen. Leahy, the ranking member of the Senate Judiciary Committee, authored the original ECPA Act in 1986 to keep government out of Americans' private lives in a growing technically-centered society, but much has changed since then. Due to storage limitations, early emails, for instance, were not stored forever as they are now.
"In the nearly three decades since ECPA became law, technology has advanced rapidly and beyond the imagination of anyone living in 1986," said Sen. Lee, who also joined with Sen. Leahy in the last Congress on legislation to update the protections. "The prevalence of email and the low cost of electronic data storage have made what were once robust protections insufficient to ensure that citizens' Fourth Amendment rights are adequately protected."
The updated legislation requires the government to have a search warrant in order to obtain the content of Americans' emails and other electronic communications, particularly when those communications are stored with a third-party service provider.
"These reforms would protect Americans' digital privacy – in their emails, and all the other files and photographs they store in the cloud," Sen. Leahy said in a statement. "It builds consumer trust, and it provides law enforcement agencies with the proper tools they need to ensure public safety. This is a bipartisan issue, and now is the time to act swiftly to bring Americans' privacy rights and protections into the digital age."
The bill, which is cosponsored by Sens. Jerry Moran, R-Kansas, Jeanne Shaheen, D-N.H., John Cornyn, R-Texas, Jeff Merkley, D-Ore., Cory Gardner, R-Colo., and Richard Blumenthal, D-Conn, enjoys broad support from groups across the aisle, including the American Civil Liberties Union (ACLU), Heritage Action for America, Americans for Tax Reform (ATR), and the Center for Democracy and Technology (CDT).
The House version of ECPA has 228 additional cosponsors.
"Look at how many people are supporting this bill now," Sen. Leahy said during a recent joint interview him and Sen. Lee did with FreedomWorks to discuss support for the bill. "FreedomWorks, ACLU, the Chamber of Commerce: How often do we have all of you on the same issue."