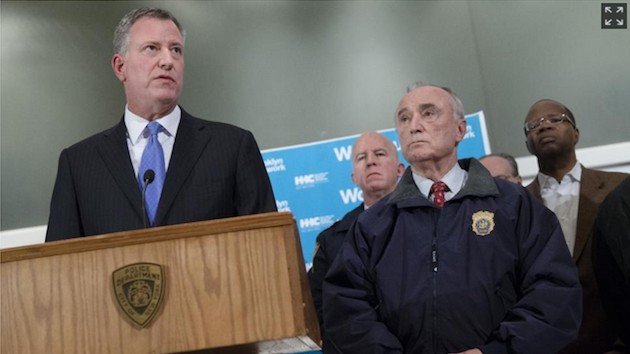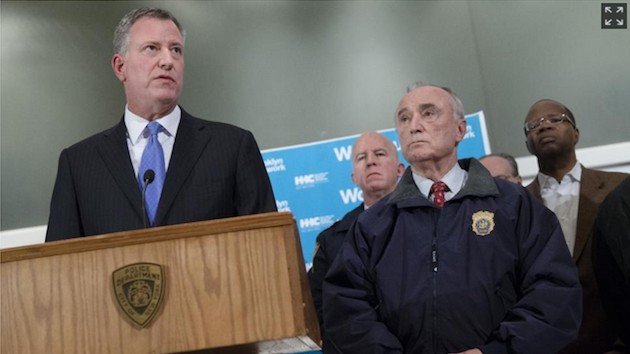 NYPD officers sent a clear message by turning their backs on Mayor de Blasio as he entered a Brooklyn hospital to pay his respects to two murdered officers — you're a mayor without a police force. The demonstration was captured by WPIX11 News, and even included the president of the Patrolmen's Benevolent Association, Patrick Lynch, and the Sergeants Benevolent Association, Ed Mullins.
"That blood on the hands starts on the steps of City Hall in the office of the mayor," Lynch said in statement. "When these funerals are over, those responsible will be called on the carpet and held accountable."
Officers Rafael Ramos and Wenjian Liu were pronounced dead at Woodhull Hospital after 28-year-old Ismaaiyl Brinsley, shot and killed them execution style outside of the Tompkins Houses in Bedford-Stuyvesant around 3:00 P.M. ET Saturday as "revenge" for Eric Garner.
Police have been furious with de Blasio since he aligned himself with Al Sharpton and protestors, calling a horrific assault by protestors on NYPD officers "alleged," despite the fact it was caught on camera. Further, in a press conference following a Staten Island grand jury's decision not to indict Police Officer Daniel Pantaleo, a 29-year-old, eight-year veteran of the force over Garner's death, de Blasio claimed that he had told his own 17-year-old, mixed-race son, Dante, to be careful around police officers.
"[The Garner case] was profoundly personal for me," de Blasio said, because of "the dangers Dante may face, we've had to literally train him in how to take special care in any encounter he has with the police officers who are there to protect him."
Lynch shot back at de Blasio, stating the mayor was "throwing them under the bus" for political gain. Shortly after, the NYPD police union was urging cops to tell Mayor de Blasio not to bother showing up to their officer's funerals in the inevitable event they are killed in the line of duty.
"Mayor de Blasio, the blood of these two officers is clearly on your hands," Mullins said in a statement to his union members Saturday night. "It is your failed policies and actions that enabled this tragedy to occur. I only hope and pray that more of these ambushes and executions do not happen again."
De Blasio's spokesman Phil Walzak tried to turn the tables on the police Saturday, stating it was disappointing for leaders to bash the mayor in a time of grief.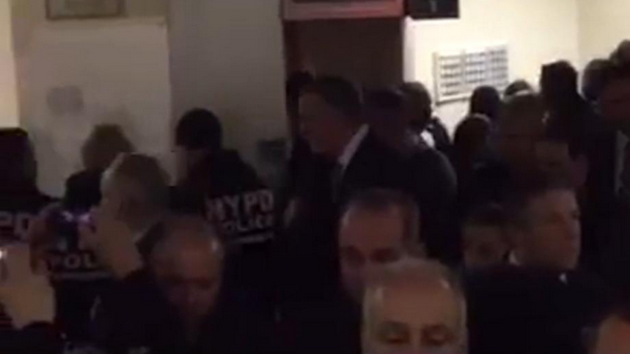 "It's unfortunate that in a time of great tragedy, some would resort to irresponsible, overheated rhetoric that angers and divides people," Walzak said. "Mayor de Blasio understands this is the time when we must come together to support the families and friends of those brave officers New York City lost tonight — and the entire NYPD community."
Meanwhile, protesters part of Al Sharpton's "Million Marchers" chanted "What do we want?… Dead cops!" as they marched in New York City last Saturday. Outrageously, despite being caught on video, the so-called reverend tweeted out the following:
"I am outraged at the killing of 2 police officers in Brooklyn. That is why we stress non violence as the only way to fight for justice."