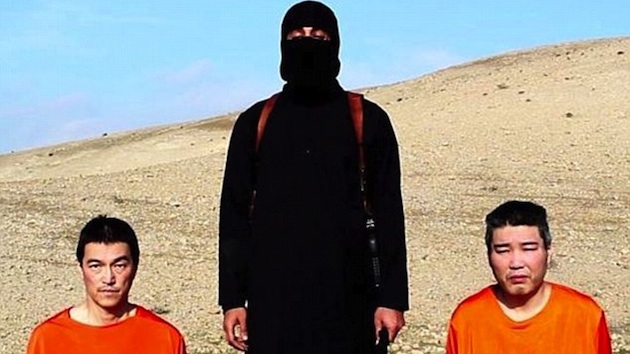 A video purportedly released by ISIS has threatened to execute two Japanese hostages unless their government pays a $200 million ransom within 72 hours. The threat appears to be a retaliation for a Japanese pledge of nonmilitary assistance to countries fighting the terrorist army, which was announced by Japanese Prime Minister Shinzo Abe on Saturday during a visit to Cairo.
The two men, freelance journalist Kenji Goto Jogo and Haruna Yukawa, the chief executive of a private security firm, were shown kneeling in orange jumpsuits on either side of a knife-wielding masked militant known as "Jihad John." He spoke first directly to Prime Minister Abe.
"You have proudly donated $100 million to kill our women and children – to destroy the homes of the Muslims. So the life of this (points knife at Kenji Goto Jogo) Japanese citizen will cost you $100 million," he said in English with a British accent. "And in an attempt to stop the expansion of the Islamic State, you also donated another $100 million to train the mujahideen against the mujahideen. And so the life of this (points knife at Haruna Yukawa) Japanese citizen will cost you another $100 million."
Then, he turned his attention to the Japanese people.
"And to the Japanese public, just as how your government has made the foolish decision to pay 200 million to fight the Islamic State, you now have 72 hours to pressure your government in making a wise decision by paying the 200 million to save the lives of your citizens. Otherwise this knife will become your nightmare."
A spokesman for the Japanese government said that there would be "no change to our policy of contributing to the international community's fight against terrorism." The Japanese pledge included food and medicine for Iraqi and Syrian refugees.
"Using human lives as a shield to make threats is an unforgivable terrorist act, and I am extremely indignant," said Prime Minister Abe. "I strongly demand that they be released unharmed immediately.
"The international community will not give in to terrorism and we have to make sure that we work together."
The latest video and developments come as 13 teenage boys in the Iraqi city of Mosul were killed by ISIS for watching the Asian Cup soccer match between Iraq and Jordan, which under the terror group is an offense punishable by death.
Before being shot to death by machine guns, the terrorists reportedly announced the boys' "crime" of breaking religious laws by watching sports over a loud speaker.
About the Hostages
Haruna Yukawa, a 42-year-old widower, reportedly has a history of attempted suicide and even self-mutilation. His mental state took a turn for the worst after his military goods business went bankrupt and his wife died of cancer.
He even considered cutting off his genitals, deciding that he would instead "live as a woman and leave the rest to destiny," according to The Daily Mail.
He travelled to Iraq and Syria last year after telling friends and family that he thought it represented a last chance to turn his life around.
Kenji Goto Jogo, a freelance journalist, born in 1967, established a video production company known as Independent Press in Tokyo back. They have been shooting video documentaries on the Middle East and other regions to Japanese television networks since 1996, including public broadcaster NHK.
Just after telling his family in October that he was set to return to Japan, they lost contact with him. Goto met Yukawa last year and helped him travel to Iraq in June, according to a Reuters report in August.
In early November, his wife began to receive e-mails demanding a ransom totaling roughly one billion yen ($8.5 million) from a person claiming to be an Islamic State group member. The e-mailed threats were later confirmed to have come from a sender implicated in the killing of U.S. journalist Foley, Fuji TV said.