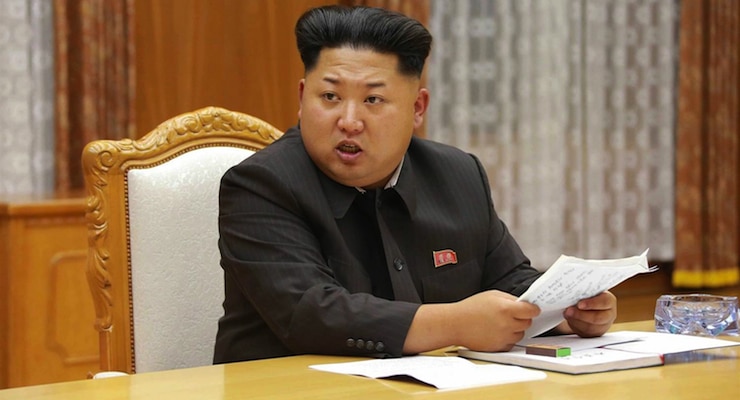 The Defense Department confirmed on Monday North Korea launched a new long-range rocket and successfully "put a satellite or some device into orbit." The confirmation comes only days after Pyongyang fired a long-range rocket over Okinawa on Saturday in what officials called a banned missile test.
Tensions on the Korean peninsula have been increasing and on Monday a South Korean naval vessel fired five shots as a warning to a North Korean patrol boat that briefly moved south of the countries' disputed boundary line in the Yellow Sea, according to Seoul's defense ministry. A South Korean official told the Yonhap news agency that the North Korean vessel retreated northward after the warning shots were fired into the water.
North Korean leader Kim Jong Un ordered the launch just one month after the country's fourth nuclear test, ignoring opposition to the move from China, its neighbor and only real ally. He also decided to launch the long-range rocket on the eve of Chinese New Year, the country's most revered holiday.
China and the United States have been negotiating the text of a new Security Council sanctions resolution since Pyongyang's Jan. 6 nuclear test, which it claimed was a hydrogen bomb. That claim has been met with widespread skepticism.
Meanwhile, U.S. Ambassador Samantha Power told reporters on Monday that "it cannot be business as usual" following two successive North Korean acts that are "hostile and illegal."
"What's important is that the Security Council unites," Power said. "China is a critical player. We are hopeful that China, like all council members, will see the grave threat to regional and international peace and security, see the importance of adopting tough, unprecedented measures, breaking new ground here, exceeding the expectations of Kim Jong Un."
However, judging by the reaction from Beijing, it would appear the Obama administration is on yet another wild multilateral solution goose chase. China's U.N. ambassador, Liu Jieyi, made clear that unprecedented sanctions aren't Beijing's priority.
He said a new resolution should "do the work of reducing tension, of working toward denuclearization (of the Korean peninsula), of maintaining peace and stability, and of encouraging a negotiated solution."
"I believe the council needs to work together for a new resolution," Liu added.