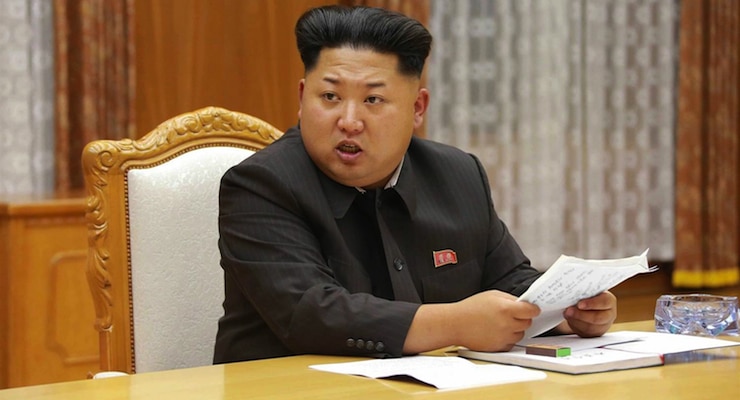 The North Korea launched a missile in what the South Koreans are calling a "show of force" against U.S. President Donald J. Trump. The U.S. Pentagon detected the test and is assessing the launch, though it was unclear whether the projectile that plunged into the eastern sea on Sunday was a ballistic missile.
The White House is continuing to monitor the situation, a White House official said on Saturday according to Reuters.
"We are aware of the missile launch by North Korea," an administration official told Reuters. "The President has been briefed and we are continuing to closely monitor the situation."
The launch is a likely effort to advance its weapons program and is the first since President Trump assumed office.
Japanese Chief Cabinet Secretary Yoshihide Suga said the missile test-fired by North Korea did not hit Japanese territorial seas. Meanwhile, South Korea's Yonhap news agency reported that the Japanese government confirmed that the missile fell in the waters between the Korean Peninsula and Japan.
The South's Joint Chiefs of Staff confirmed in a statement that the projectile was fired from an area in the country's western region near Banghyon, North Pyongan Province, which is where South Korean officials have said the country test launched its powerful midrange missile Musudan on Oct. 15 and 20.
North Korea has attempted 24 missile launches and two nuclear tests just this year, alone. The tests included eight launches of the Musudan missile. Th intercontinental ballistic missile can be fired from concealed road-mobile vehicles, travel 4,000 kilometers and hit the U.S. mainland.
In June of 2016, North Korea successfully fired a Musudan, which landed 250 miles away in the Sea of Japan. The latest launch comes after four unchecked nuclear tests during the Obama administration, and one under the Bush administration.
The most recent attempt to launch an intermediate-range ballistic missile, which subsequently failed, was within hours of a U.S. presidential debate in October.
North Korean leader Kim Jong Un said in his annual New Year's address that the North's preparations for launching an intercontinental ballistic missile have "reached the final stage."