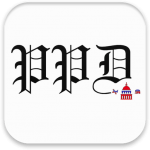 Please Note: The APPS are currently being upgraded and will be unavailable for a few days. We will send an email to subscribers when they are approved and live.
APPS
---
Download the official PPD Mobile APP and get no-holds barred, in-depth coverage you can trust right at your fingertips!
A central hub for the official PPD APP on iTunes for Apple iOS and Google Play for Android, as well as tools and widgets from People's Pundit Daily.
[one-half-first]

---
---
[/one-half]
---
Unlimited Access to Mobile APP Content with Digital Subscription to PPD!
With the official PPD mobile APP, you'll get data-driven analysis from the most accurate election projection site on the Internet, as well as the latest news and top stories in the U.S. and around the world.
---
From politics to the economy, you'll have a news-reporting pundit of, by, and for the people bringing you the latest stories from inside of the Beltway with an outsider point of view.
– Breaking News & Push Notification Alerts
– Commentary from Pulitzer Prize-Winning Journalists
– Expanded Analysis on Election Projection Models
– Interactive Election Maps
– Track Election and Public Opinion Polls
– View Latest Video Clips and Live Streaming Video on PPD TV
Need Support? Visit PPD's APP Support Page