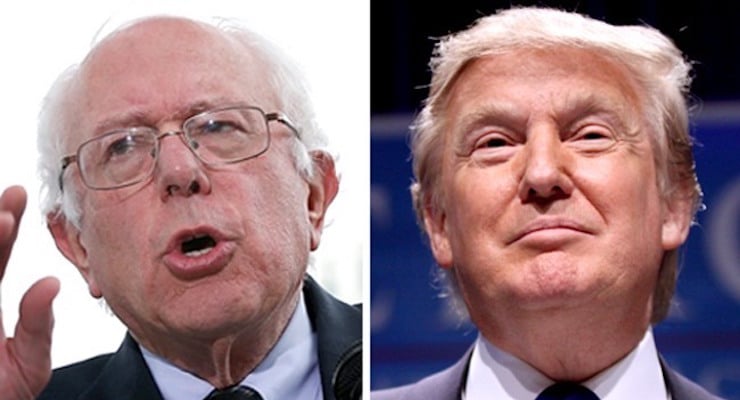 New Hampshire primary exit polls show a big turnout on Tuesday among independent voters, but confirm the GOP are out-voting Democrats in the Granite State. Independents, or undeclared voters, account for about four in 10 primary voters in both the Republican and Democratic contests, according to preliminary exit poll results.
(Please Note: We will be updating this article as more data flows in the desk.)
A larger or typical turnout among independents are widely believed to benefit billionaire real estate mogul Donald Trump and socialist Sen. Bernie Sanders. As it turns out, both candidates have reason to be optimistic based upon the results of these New Hampshire exit polls.
On the Republican side, nearly half of votes who cast a Republican ballot said they're looking for a candidate from "outside the political establishment," a mood that boosted voter preference for Trump.
The economy and jobs, government spending and terrorism came is as the top issues, with immigration running behind. Of the top six candidates, Trump enjoyed a significant advantage on who would best handle the economy and an international crisis, with Ohio Gov. John Kasich behind on the economy.
Former Florida Gov. Jeb Bush, Texas Sen. Ted Cruz, Florida Sen. Marco Rubio, Kasich and New Jersey Gov. Chris Christie (in that order) are trailing Trump on who is best to handle an international crisis. Significantly, half of New Hampshire Republican primary voters said they'd be satisfied with Trump as the eventual nominee, with only four in 10 saying the same about Rubio and Cruz.
More GOP voters say a candidate's positions on the issues are more important to their vote than personal qualities. Further, New Hampshire Republican primary exit polls show voters support Trump's controversial proposals. A whopping two-thirds of New Hampshire Republican primary voters favor temporarily banning Muslims who are not U.S. citizens from entering the country and four in 10 say undocumented immigrants should be deported.
The electorate seems to be far more friendly for the frontrunner, as well, though that was to be expected and could help the moderate governors. After all, these are just exit polls. Still, evangelicals represent just a quarter of New Hampshire Republican voters in juxtaposed to 64% in Iowa. That important bloc in the GOP coalition helped propel Cruz to number one, though they backed the national frontrunner in substantial numbers, as well.
"Strong" conservatives accounted for three in 10 Republican primary voters in New Hampshire, down from 40% in Iowa. Yet, roughly three-quarters identify as conservatives overall in these preliminary exit polls, up significantly from the 53% in the 2012 primary. Former Massachusetts Gov. Mitt Romney, the eventual nominee, won the Granite State primary with by roughly 16%.
More than four in 10 Republican voters in New Hampshire say they're angry with the way the federal government is working. It was a similar 42 percent in Iowa. Of the 43% are angry, 37% chose Trump while 17% chose Cruz. Four in 10 Republican voters chose their candidates in the final days and Trump and Kasich each pulled 21%, with Bush and Rubio behind at 13%. Trump carried 29% of the independent vote, which is double-digits above his closest rival (Kasich: 17%).
The Donald is dominating across the board on the most important issues, including two-thirds of those who said "telling it like it is" was pivotal to their vote.
On the Democratic side, Sen. Sanders appears to be headed for a big win. The number one attribute for Democratic primary voters was honesty and trustworthiness, with more than three in 10 voters in preliminary exit poll results. Sanders stomped Clinton with these voters 93% to 5%. The second attribute was a tie between "someone who cares about people like me" and experience, at just more than a quarter each. Unlike the Republicans, only about two in 10 Democrats decided late.
According to the latest data from the New Hampshire Secretary of State, Republicans against cast more ballots (282,000) than Democrats (268,000), an ominous sign for the president's party in November. That will change, of course. But the independent vote is also disproportionately favoring the GOP. PPD recently published the most recent data reflecting voter party affiliation and ideology by U.S. state, which showed Republicans holding an 8.8-point advantage over Democrats in the Granite State.
As far as ideology, conservative holds a 12-point advantage over liberalism, while 37.5% identify as moderate.
New Hampshire Exit Polls: Republicans versus Democrats
According to the New Hampshire exit polls, there are record levels of political polarization on both sides of the aisle, with more Republican voters than ever saying they're conservative and more Democratic voters saying they're liberal. Nearly seven in 10 New Hampshire Democratic primary voters described themselves as liberals, including 25% who say they're "very" liberal, both of which are higher than 2008 when 56% identified as liberal and 20% said they were very liberal. Those numbers will break new highs in exit polls going back to 1980, if they hold.
Unsurprisingly, based on the high number of liberals, two-thirds of Democratic voters said they support throwing out ObamaCare for a "single taxpayer-funded plan for all Americans," a policy Sanders has championed and Clinton has argued against. The American people, as a whole, are adamantly against single-payer and still continue to oppose the president's signature health care law.
Six in 10 Republican voters said they were "very" worried about a major terrorist attack, compared to just a quarter Democrats voters. While 9 in 10 Republican voters are either dissatisfied or angry about the way the government is working, including 4 in 10 who are angry about it–juxtaposed to barely over one in 10 Democratic voters.
Worth noting, as we at PPD have beat like a drum over-and-over, half of Republicans say they feel "betrayed" by their own party, but only one in seven Democrats agree. Electibility was not much of a factor on either side of the aisle, as only 1 in 10 voters from both parties said that was their major consideration.
Bottom Line: This is looking like a hastag #TrumpThump and a #SandersStomp.