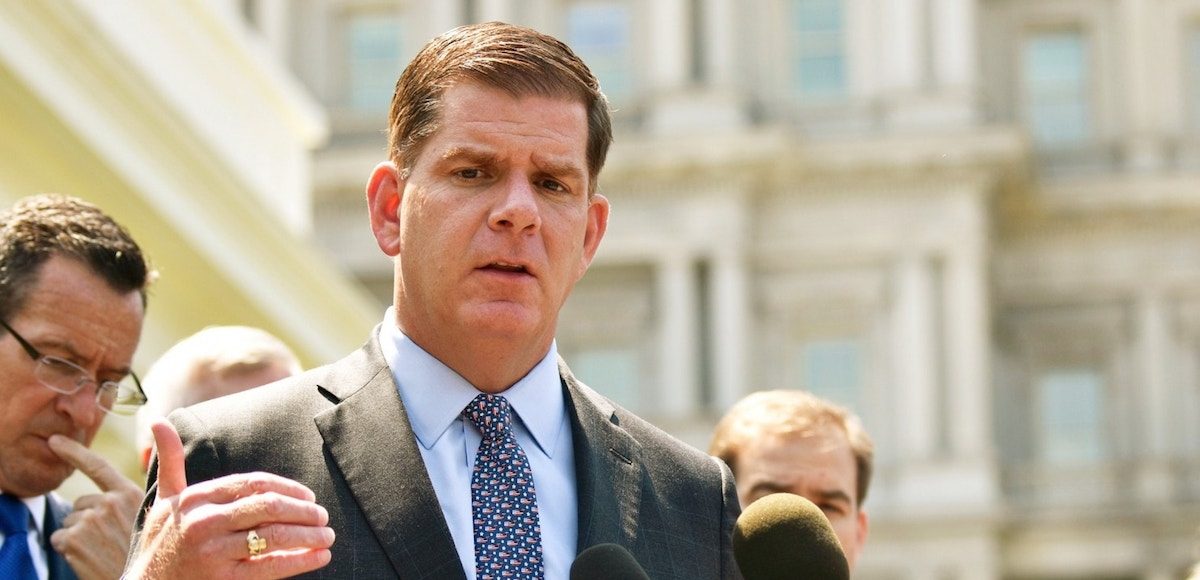 A new Emerson College Poll finds Boston Mayor Marty Walsh is very popular and enjoys a 31-point lead over his closest primary challenger Councilor Tito Jackson. Mayor Walsh's lead in the race, which is set for September 26, is fueled largely by his 72% favorability rating.
The poll of likely voters has Mayor Walsh at 52% juxtaposed to Councilor Jackson at just 21%, with 16% undecided.
Mr. Jackson has a solid 43% favorable ranking, while 33% view him unfavorable. However, Walsh's 72%/18% numbers mean the challenger has to fill a tall order. Most concerning for Councilor Jackson is that he's losing his home district 44% to 30%. Black voters also back Mayor Walsh nearly 3 to 1, 66% to 21%.
There are some bright spots for Jackson.
He leads among voters 18 to 34 years old 37% to 17%, though he trails among voters 35 to 74 year olds by roughly 35 points. The challenger also trails the incumbent among those over 75 years old by 54 points, 65% to 11%.
In a hypothetical general election match-up, Mayor Walsh leads Councilor Jackson 55% to 26%, with 19% of registered voters still undecided.
As Emerson College Polling Society Director Professor Spencer Kimball notes, there is an opening for Councilor Jackson to at least chip away at Mayor Walsh's lead. Seventy-one percent (71%) said the cost of housing in Boston was unaffordable, while only 22% said it was affordable. Those voters currently still back the incumbent, but that's more indicative of a messaging flaw in the Jackson campaign.
Further, 38% said Boston is overdeveloped, while just 15% said it was under-developed. Among those who say the city is overdeveloped, Councilor Jackson only trails Mayor Walsh by 12 points, 41% to 29%.
All respondents interviewed in this study were part of a fully representative sample using an area probabilistic sample of registered voters from Aristotle International. The overall sample size was N= 529 with a margin of error of +/-4.2 percentage points in 19 of 20 cases. In the Primary the sample was n= 396 with a MOE of +/-4.9 percentage points. It is important to remember that subsets based on gender, age and party breakdowns carry with them higher margins of error, as the sample size is reduced. Data was collected using an Interactive Voice Response (IVR) system of landlines only and was conducted September 14-16, 2017.
This survey uses statistical weighting procedures to account for deviations in the survey sample from known population characteristics, which helps correct for differential survey participation and random variation in samples. The overall adult sample is weighted to recent Census and voting behavior data using a sample balancing procedure to match the demographic makeup with district, party affiliation, ethnicity, age and gender. Margins of sampling error for this survey are not adjusted for design effect.