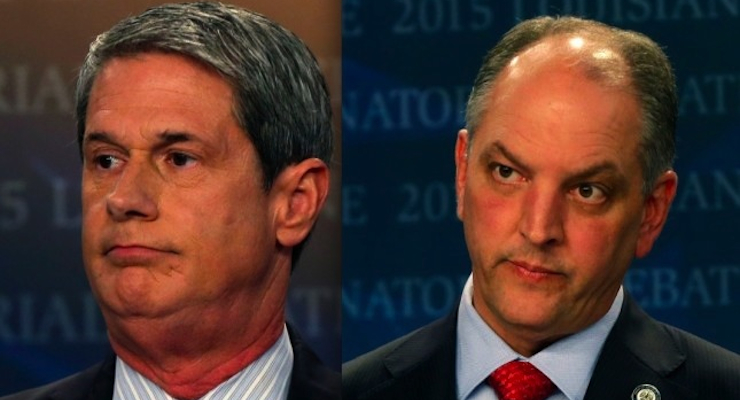 Sen. David Vitter, R-La., will face John Bel Edwards, a Democratic state legislator, in a runoff for Louisiana governor on November 21. With 100 percent of the vote recorded Saturday in Louisiana's open primary, Edwards had 40 percent of the vote (444,061) to Vitter's 23 percent (256,105).
The runoff is to replace Republican Gov. Bobby Jindal, who is term-limited and making a struggling run for the GOP nomination.
Elisabeth Pearson, executive director of the Democratic Governors Association, congratulated Edwards on his first-place finish, saying the results showed Louisiana voters "don't trust David Vitter to be their governor."
"The primary results were a clear repudiation of David Vitter's tired Washington politics," she said in a statement. "Louisiana voters know that they just can't trust David Vitter. That's why more than 70 percent of them rejected his campaign today."
Two other Republicans–Lieutenant Gov. Jay Dardenne and Scott Angelle, the latter a member of the state's utility regulating commission–also trailed with 15 percent and 19 percent (166,553) of the vote (214,907), respectively. When taken together, Republican candidates earned 57 percent of the vote. Edwards, as has been the case with other recent Democratic candidates, struggled badly with white voters.
Meanwhile, Republican Governors Association Communications Director Jon Thompson in his congratulatory statement for Vitter tried to tie Edwards to President Barack Obama.
"Instead of standing up for Louisiana, John Bel Edwards has repeatedly supported Obama and championed his liberal agenda, even writing the bill that would expand Obamacare in the state," Thompson said. "Louisianans can't afford four more years of Obama's failed policies and that's exactly what they would get with an Obama liberal like John Bel Edwards in charge."
Though some recent polls have shown Edwards leading Vitter in a head-to-head matchup, amid increasing unfavorable ratings and questions surrounding a prostitution scandal, the political leanings of the state still greatly favor the GOP candidate. His 2007 prostitution scandal was brought up again as recently as a debate on Wednesday.
Nevertheless, the race is not Vitter's by a long shot. When the head-to-head matchup was first polled in February 2014, Vitter dominated Edwards, 50 percent to 32 percent. Now, Vitter will find himself unemployed if he fails to win the runoff. Louisiana Republicans — including Rep. Charles Boustany Jr., Rep. John Fleming and state Treasurer John Kennedy — have already begun filling out applications to run for Vitter's seat in the Senate in the event that he is successful next month. However, if he pulls it out, Vitter would be able to appoint his replacement — potentially  giving the gift of incumbency to a successor.
What's the GOP strategy to keep the governor mansion in a deeply red state?
The Washington, D.C.-based Republican Governors Association had already began attacking Edwards as an "Obama liberal," which he undoubtedly is to the core. National Democrats have been reluctant to get involved for obvious reasons.