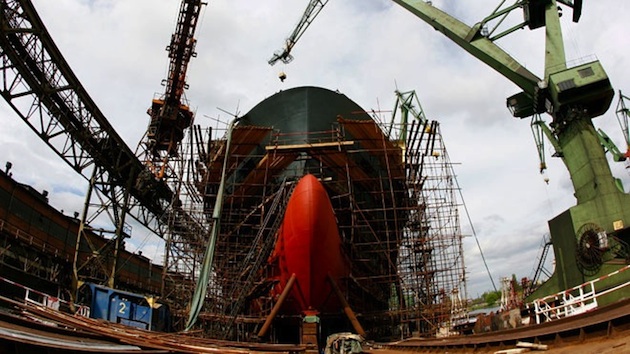 Fueled by a smaller trade deficit and a surge in defense spending, U.S. GDP growth beat estimates in the third quarter, but data suggest an economic slowdown. Details within Thursday's Commerce Department report showed a loss of momentum in economic activity, as the nation's gross domestic product grew at a 3.5 percent annual rate.
Economists' expectations were set at a 3.0 percent pace, but the pace of growth in business investment, housing and consumer spending slowed from the second quarter. The concerning data came just one day after the Federal Reserve announced it had ended its money-printing, asset-purchasing program known as quantitative easing. Fed officials claim there was sufficient fundamental strength in the U.S. economy, but inflation hawks immediately expressed concern the Fed might have realized they underestimated the threat from runaway inflation.
Meanwhile, the smaller trade deficit reflected a plummeting of imports, which fell at their fastest pace since the fourth quarter of 2012. That was largely fueled by a substantial drop in oil imports.
Trade added 1.32 percentage points to growth, however, there are concerns a slowing euro zone and Chinese economies will weigh down U.S. export growth. Government defense spending rose at its fastest pace since the second quarter of 2009, which is largely represented in the latest growth figures, which doesn't spread broadly throughout the economy to working Americans.
Inventories was a drag on growth domestic product, subtracting 0.57 percentage point from GDP after it added 1.42 percentage points in the second quarter. Growth in business investment, which is what the Fed was trying to encourage through their asset-purchasing program, also slowed in the third quarter, with spending on equipment rising at only a 7.2 percent rate.
This was widely off the mark, as economists polled by Reuters had expected a second straight quarter of double-digit growth.
Business spending on structures and intellectual products also slowed. Tuesday's report showed a further moderation in the pace of equipment investment in the fourth quarter, while growth in consumer spending decelerated to a 1.8 percent pace from the second-quarter's 2.5 percent pace, despite monthly reports to the contrary.
Consumer spending, which accounts for more than two-thirds of U.S. economic activity, still added 1.22 percentage points to GDP growth.