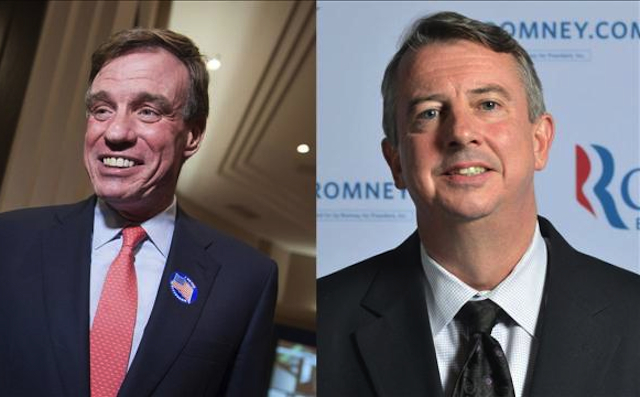 The Virginia Senate race is the eleventh article in a succession of articles offering expanded analysis on the ratings for the PeoplesPunditDaily.com 2014 Senate Map. The last time we visited the "Old Dominion" Senate seat held by Democratic incumbent Senator Mark Warner, there was "no there, there." Alas, this may not be a deadbeat Senate race, after all.
Thus far, I have released expanded analysis for the following Senate races:
Alaska, Arkansas, Iowa, Kentucky, Louisiana, Michigan, Montana, North Carolina, and Mississippi, with West Virginia, — which is rated "Safe Republican" on the 2014 Senate Map — released just before the end of the year.
It was going to be a heavy lift for Republicans to challenge Sen. Mark Warner to begin with, but when they decided to nominate their candidate through convention next year, that weight got even heavier. Nominating candidates through party convention tends to produce out-of-the-mainstream candidates, and even worse, stifles voter enthusiasm. Think former lieutenant governor nominee E.W. Jackson, who never gained traction despite Cuccinelli's last-minute surge, and you'll get where I am coming from.
In our last analysis of the state of the Virginia Senate race, it was looking pretty grim for Virginia Republicans, which pointed to an environment that warranted nothing less than a "Safe Democrat" rating. Incumbent Gov. Bob McDonnell is leaving office because of term limits, but most assuredly will not be seeking the nomination to run against Senator Warner. McDonnell is in serious trouble and is currently the target of a FBI investigation into large, unreported gifts that he and his wife have accepted.
Two Republicans, both of whom are military veterans, have declared their candidacies. First, retired Navy officer Howie Lind, 56, of McLean, then retired Air Force officer Shak Hill, 49, of Centreville. To be sure, any Republican candidate will have benefited from the latest ObamaCare news, as Senator Mark Warner supported the Affordable Care Act and has yet to back down from his vote. We all saw how the issue of ObamaCare influenced the vote in the final week of the gubernatorial election, and if that race was decided on Thursday instead of Tuesday, we likely would have had a different outcome.
Still, Warner is a shrewd campaigner, and can raise a ton of money. He is personally wealthy, in fact, fabulously wealthy and he will use it. Senator Warner has $7.1 million in the bank. Coupled with the power of incumbency, he was highly favored to win reelection.
But that was then, so the saying goes.
The Washington Post previously reported that sources told them Republican Ed Gillespie, political guru and former state chairman of the Republican Party of Virginia, is expected to run against Warner.  A recent poll conducted by notable GOP pollster Kelly Anne Conway had Warner leading a generic Republican candidate by a small 50 – 45 margin.
Prior to the news breaking, we said that Ed was a numbers guy, himself, and if he concluded that the damage done by ObamaCare has been great enough to Senator Warner, then he would make a go of it.
Now, we are beginning to see a clearing picture coming into focus on the state of the Virginia Senate race, with sources saying Gillespie will challenge the well-funded Warner for his seat in 2014.
"He is running. It'll be announced next week," one of the sources said Thursday night.
"I have concluded it is a winnable race," Ed Gillespie told an anxious audience at a breakfast meeting for the Norfolk Republican Party at Cagney's restaurant before the news broke. And if he concluded it's winnable, it's winnable.
Ed Gillespie may not have a proven track record as a candidate himself, but he played a vital role in countless statewide campaigns in Virginia, and has more than enough of a grasp on what it takes to garner statewide support. He is currently the head of the Republican State Leadership Committee, from which Gillespie hatched his brainchild, a strategy that focused on down-ballot races to elect state government officials nationwide in 2010.
With a candidate like Ed Gillespie — who is very telegenic and extremely folksy — the Democrats will not be able to pull off the extreme GOP narrative, and that goes for both social and economic issues. In order for a Republican candidate to win in Virginia, they must perform more like McDonnell and less like Cuccinelli in Loudoun County, which a more tactical speaking Gillespie would be capable of doing.
A mere moderate increase in performance among suburban white women from the dismal numbers posted by Cuccinelli, and it could be curtains for Warner.
Furthermore, President Obama isn't the most popular person in the state of Virginia, but he isn't hated yet either, with an approval rating bouncing around the low 40s to a high of 46 percent. ObamaCare, as we saw in the governor's race, is a serious liability for Senator Warner. He will have all of the drag from President Obama, without enjoying his GOTV organization and machine, which his own campaign is sorely lacking.
Assuming Ed Gillespie meant it when he said we will hear his decision before the February 1 filing deadline, we will again visit the status of the Virginia Senate race shortly thereafter. But, for now, mere speculation over a potential Ed Gillespie campaign has exposed a surprising vulnerability in Senator Warner.
Until then, the assessment is pretty clear. The Republican Party could make this a competitive race, as whoever the Republican candidate may be will clearly have an electorate in 2014 favorable to their agenda. However, the correct call for this race is still "Likely Democrat," it is just not a safe race for Warner, who just may get the fight he never expected.
Return To PPD 2014 Senate Map