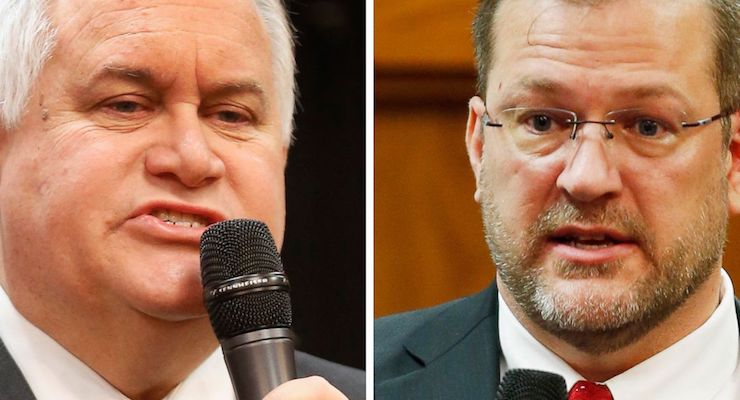 Republican state treasurer Ron Estes defeated Democrat James Thompson in the special election for the 4th Congressional District in Kansas. It's a district President Donald J. Trump carried by roughly 30 points, but the GOP barely outspent toward the end and slept on the race until late in the game.
With 79.9% of precincts reporting, or 95,748 votes, Estes led Thompson 52.2% to 46%, underperforming in Sedgwick County and over-performing targets in rural precincts. Sedgwick represents roughly two-thirds of the district vote.
The 4th Congressional District was represented by Mike Pompeo, who the president nominated and the Senate confirmed to be the director of the Central Intelligence Agency (CIA). He won it by more than 30 points in 2016 and Republicans have held the seat for more than two decades.
But Democrats poured tons of money into the race with the hope the president's low national approval ratings would put the seat in play.
Estes hauled in $312,000 from the beginning of the year to March 22, according to his pre-special election report. In the last three weeks, 48-hour reports show that he gained an additional $147,000 in donations over $1,000, bringing his total contributions to at least $459,000.
Thompson trailed Estes with $254,000 as of March 22, adding an extra $38,000 in large donations in the last three weeks to total at least $292,000. In the first two months of 2017, the Kansas Democratic Party raised $224,000. Further, the liberal website Daily Kos endorsed Thompson and put out a fundraising plea with a page that raised $178,000 in donations as of Sunday.
The race was rated Likely Republican on the PPD Election Projection Model, though Estes was a particularly weak candidate. As a member of Gov. Sam Brownback's administration, he scored a 2 of 10 score on candidate strength.
| Candidate | Percent | Votes |
| --- | --- | --- |
| Ron Estes (Republican) | 52.5% | 63,505 |
| James Thompson (Democratic) | 45.7% | 55,310 |
| Chris Rockhold (Libertarian) | 1.7% | 2,082 |
| Write In (Unaffiliated) | 0.1% | 90 |
96.6% Reporting, 120,987 Total Votes