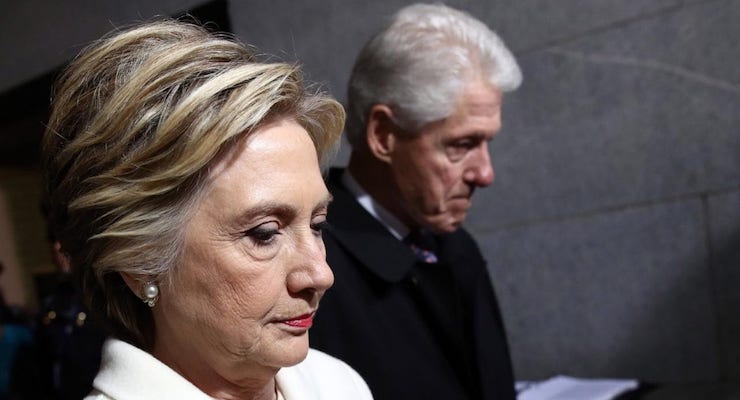 At the University of Florida, one of the books on the required reading list for students studying legislative government was, Tell Newt to Shut Up. It was basically a book version of a series of reports published by The Washington Post documenting Speaker Newt Gingrich's "day-to-day" efforts to govern after the Republican Revolution put the party back in power in 1995.
It painted the most successful Republican speaker in generations as an incompetent leader outsmarted by a charismatic Democratic president, who would later take all the credit for balancing the budget, welfare reform and other major conservative agenda items.
In reality, then-President Bill Clinton wanted to do none of these things. He was ultimately forced to sign them, by the speaker and the GOP Congress, who passed and put them on his desk numerous times.
Liberal professors, many of whom had been waiting for Mrs. Clinton to one day serve in the role her husband did and embarrass another Republican leader, absolutely loved it.
Once again, history is being repeated and rewritten. In an interview at the "Women in the World" summit, Nicholas Kristof of The New York Times asked Mrs. Clinton the following:
I have to ask fundamentally, a man who bragged about sexual assault won the election and won 53% of the white women's vote. What does that say about the challenges that one faces in women's empowerment, that in effect misogyny won with a lot of women voters?
Her response? Clinton's answer was textbook identity politics, victimhood and excuse-making:
But it is fair to say as you just did that certainly, misogyny played a role. That just has to be admitted. And why and what the underlying reasons why is what I'm trying to parse out myself.
She continued:
I would just say this: There is a constant struggle—and not just women, women and men—in a time of rapid change, like the one we are living through, between something that is different that may hold out even possible positive consequences, and something that is familiar and something that really is first and foremost about security of what you have right now. And I think in this election there was a very real struggle between what is viewed as change that is welcomed and exciting to so many Americans and change which is worrisome and threatening to so many others. And you layer on the first woman president over that, and I think some people — women included — had real problems.
Hillary went on to say her opponent "looks like somebody's who's been a president before." She also cited an argument I've heard before that holds men are more liked as they become more successful, while the more successful women become the less they are liked.
This is absolute nonsense. We're still waiting to hear which fake news story circulated by Russia cost Hillary Clinton the election, and instead of answering that question we get another outrageous round of excuses for her humiliating defeat.
First, polling is pretty definitive on Mrs. Clinton's image. In the 1990s, she was and remained deeply unpopular. Her image only turned more positive during her tenure as secretary of state in the Obama Administration, a period in her public career when arguably she was perceived to be the most successful. Opinions once again turned negative the more Americans heard from Mrs. Clinton because, to state the obvious, she isn't a very likable person.
Second, aside from being the former First lady, I'm not at all certain what makes her or her media sycophants like Kristof think she was successful. Mrs. Clinton tried to sell herself as the most qualified person to run for president. In reality, she changed her address to become eligible to run for Senate in one of the most liberal states in America, and flew around the world as secretary of state accomplishing nothing.
Libya, which was supposed to be her crown jewel, is now a terror breeding ground. "We came, we saw, he [Muammar Gaddafi] died," she said chuckling on a hot mic.
Americans aren't as stupid as politicians and Big Media hope they are.
Now that they don't appear to be buying the Russian boogeyman narrative, we are hearing a list of excuses the Clinton campaign put together back in December.
The truth is that Big Data simply won't support these false assertions. President Trump defeated Mrs. Clinton because of the fundamentals of the race, not because of any items on the growing list of "Why Clinton Lost" excuses. While the outcome of the presidential election was a shock to most of the political and media establishments, it wasn't to us or our readers.
The now-embarrassed leftwing election forecaster and glorified poll-reader, Nate Silver, has helped to perpetuate one of these erroneous claims.
I'll put it like this: Clinton would almost certainly be President-elect if the election had been held on Oct. 27 (day before Comey letter).

— Nate Silver (@NateSilver538) December 11, 2016
If we want to scrutinize the accuracy of this or one of the other myriad excuses, it only makes sense to reference the results of the poll that put forward the most accurate data. In addition to tracking the presidential race nationally, the PPD Poll had panels in every single battleground state, which tracked monthly until October when it tracked weekly.
We did see significant movement to President Trump in certain battleground states in the closing days, but support for him actually declined for several days after Wikileaks began to dump Clinton campaign chair John Podesta's emails. The President was ahead of Mrs. Clinton more than he was behind in our national and battleground state tracking polls, with her largest leads springing up during periods when he was down–i.e. the release of the Access Hollywood tape.
On October 23, the day Silver says would've meant a win for Mrs. Clinton, she trailed Mr. Trump by a little less than a point. On October 24, she began to take a slight less than 1-point lead due solely to a temporary increase in voter enthusiasm, not a significant increase in support among mind-changers.
The fact late-deciders broke hard for President Trump over Mrs. Clinton is not evidence of damage done by the Comey letter, but rather the result of simple consolidation by a previously damaged candidate who was seen by voters as having passed the presidential bar. I've long told readers and interviewers that Mrs. Clinton had more structural and fundamental deficits baked in the electoral cake, from the beginning.
But he had two main challenges to meet in order to win and, much to the dismay of his detractors, he met them. President Trump had lost much of his lead following the release of the Access Hollywood tape and voters unhappy with the alternatives were still willing to give him a chance to pass the bar.
The PPD Poll did find him with a deficit among suburban white women, particularly those with a college-degree. It just wasn't nearly as severe as Big Media pollsters suggested. Mr. Trump's main challenge was always whether he could hold on to traditional GOP and GOP-leaning suburban voters while adding his working class coalition.
In the end, he did and that's what ultimately decided the outcome of the election. If the Democratic Party wants to recover from their devastating losses over the last three cycles, they will tell Hillary to shut up and make an effort to understand the real-life issues that caused that coalition to support President Trump.