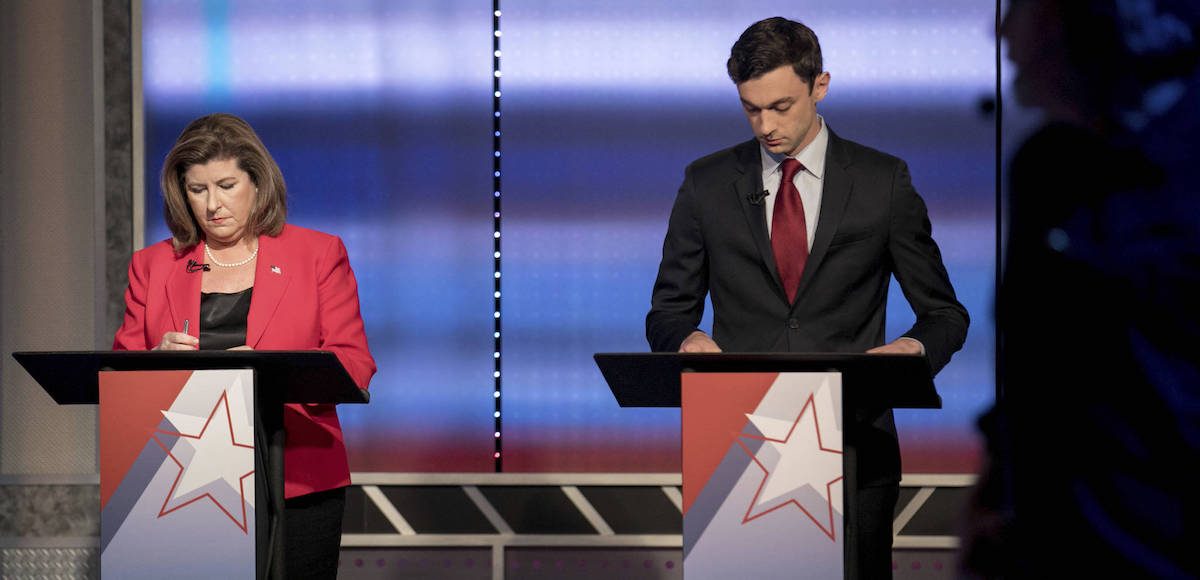 (Editor's Note: This article will be updated throughout the day to include more recent data and information.)
On Tuesday, voters in the 6th Congressional District will decide the winner of the Georgia Special Election runoff and the person who will replace Department of Health and Human Services (HHS) Secretary Tom Price.
Republican Karen Handel enjoys a built-in Republican advantage in the conservative-leaning district, which President Donald J. Trump carried by less than 2 points. Democrat Jon Ossoff is hoping charisma and financial support from D.C. Democrats can capitalize on the president's weakness in the district, which saw the most expensive congressional campaign in history.
Here's what you need to know.
District
The recently redrawn district includes the Atlanta suburbs and is one of the fastest growing districts in America. Typically Republican-leaning, it includes Fulton County, DeKalb County and Cobb County. Mr. Price overwhelmingly won reelection in November while President Trump struggled to win over more wealthy voters. Mediates tend to focus on those voters and miss the importance of the impact from redrawing the district.
Early Vote
Almost 150,000 voters have already cast their ballots in early voting, which is roughly three times more than the round one early vote in April. Overall, only 193,000 ballots were cast and Ossoff failed to reach the 50-percent threshold to avoid the runoff (48%).
Nearly 40,000 people who have voted early in the runoff did not vote during round one in April, which is misleading at best. From the March 20 "new registration" deadline since the runoff, almost 8,000 new eligible voters have been added.
But since the ruling enabled voters to register until mid-May–which was announced on the May 4–the number was just over 2,000. If it turns out that Ossoff ekes by with a small-margin win, there will definitely be a case to be made that these new local registration efforts were pivotal.
The early vote is much more Republican than it was in the first round and Handel, according to estimates built on polling data models, would only need about 84,500 more voters to show up on Election Day.
Regardless, do not read too much in to the early vote results too early. We will need to see what the Election Day vote looks like–ie. region, size, margins etc.–before we will truly be able to get a beat on a potential winner.
Be Patient
Georgia is notoriously slow to report returns, especially in the most-Democrat-friendly Fulton County. That was evident on Election Day in the first round of voting. Even without the "rare data error from one of the cards" in Fulton County, precincts were still slow to report.
We anticipate that early vote returns will start sometime during the 45 minutes after polls close.
Polling
Most public polls gave Ossoff the edge up in a very close race until last week, when both public and private polling began to turn on him. On Monday, polling that gave Ossoff a not-so insignificant lead now showed a tied race. Trafalger, which also had Handel trailing, released its final poll as well. Handel was up by 2 points, with a large lead among older voters, who are participating in the runoff in far greater numbers than the first round.
Worth noting, Trafalger, which along with PPD accurately predicted President Trump's Electoral College victory state-by-state, showed Republicans coming home after the shooting of House Majority Whip Steve Scalise.
"There is no doubt in my mind that the shooting at the GOP Congressional Baseball practice has had an impact, but I don't see that it is the impact that most pundits expect," TFG Senior Strategist Robert Cahaly said. "This tragedy and the attempt to place the blame on right-wing rhetoric has actually served to motivate frustrated Republicans who were considering sitting the election out or voting for Ossoff."
Impact on 2018
We remained unconvinced that an Ossoff win translates into the House GOP majority being in danger. No one single race will receive so much attention and no Democrat running in a wealthy target district will receive so much financial help from D.C. Democrats and national donors.
There is also no room for moral victories, with Democrats hyping expectations in Kansas and Montana special elections only to come up short on Election Day. Even a small Handel win would be devastating to Democratic morale, while an Ossoff win will no doubt give the anti-Trump left bragging rights. Fair or not, it will be regurgitated not just in the following 24-hour news cycle, but throughout the months leading up to the 2018 midterm elections.