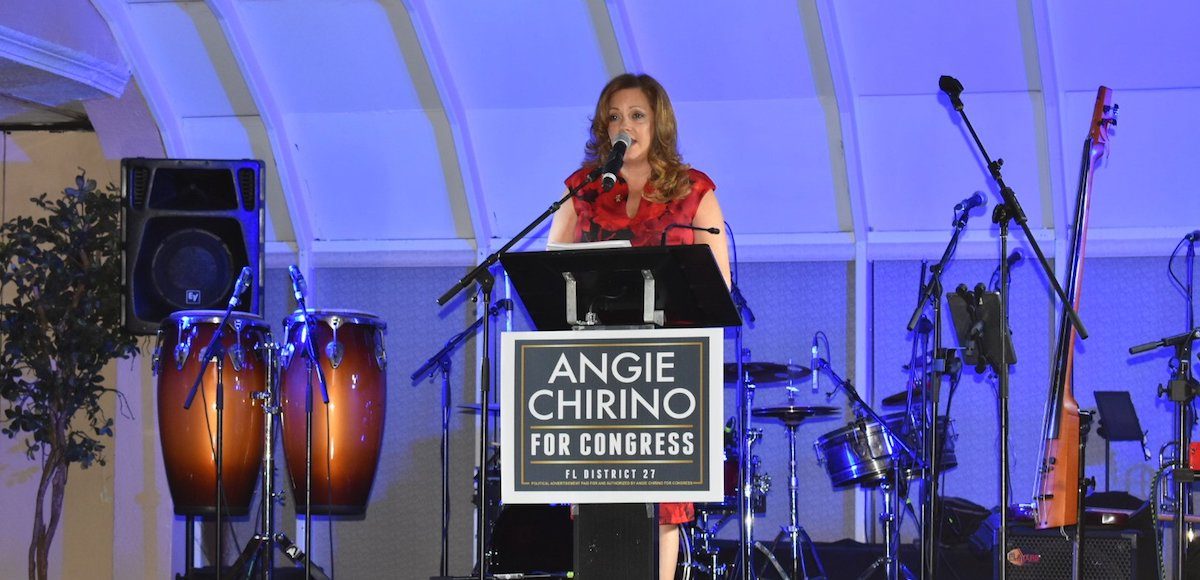 Angie Chirino told supporters in Miami over the weekend that children are "the most precious resource this world has" and her candidacy is all about "making American great again for them."
The daughter of Cuban pop icon Willie Chirino is running for the Republican nomination in Florida's 27th Congressional District.
"As you may have noticed, there's a recurring theme in my agenda. Everything I stand for is deeply rooted in a love for our children," she said during a speech at the Big Five Club in Miami on Saturday. "There's no more powerful love than the love that most of us feel for our children. There's nothing more precious than the possibility that exists in each and every one of them."
Ms. Chirino, herself an accomplished singer-songwriter, is clearly an outsider in the crowded race. The daughter of Cuban political refugees spent her life in the music industry before devoting herself to at-risk children.
"I think about how young my parents were when they came to this country, how my grandparents had to leave everything they worked so hard for behind. But they did it so that their children would not be swallowed up by a dangerous ideology," Ms. Chirino said. "We are seeing that here today. Children are being exploited to promote a message that spreads a similiar ideology, that threatens to separate us from our rights."
"I will not allow the sacrifices my grandparents made so that my parents could live in freedom to be in vain."
In 2000, she won a Latin Grammy for "Song of the Year" after working with Jennifer Lopez, Gloria Estefan and Celia Cruz. She also worked with Marc Anthony on his biggest hit, "I Need to Know."
Rep. Ileana Ros-Lehtinen, R-Fla., who was first elected in 1988, announced on April 30, 2017 that she would not seek re-election in 2018. The open-seat race to replace the longtime Republican incumbent is considered one of the best Democratic pickup opportunities in the 2018 midterm elections.
The central-Miami district has leaned more Democratic, a trend propelled by demographic changes. Republican candidates were having a difficult time raising money and, before Ms. Chirino entered the race, were about as establishment-boring as they come.
Miami-Dade County Commissioner Bruno Barreiro was widely believed to be Rep. Ros-Lehtinen's choice for a successor. But she hasn't made her support very public since he first announced his candidacy.
Former Vice Mayor of Doral Bettina Rodriguez Aguilera, another declared candidate, publicly claimed she was abducted by aliens. Miami broadcast journalist Maria Elvira Salaza also entered the race in March.
Ultimately, Republican voters will decide who will appear on the general election ballot in November.
Ms. Chirino is a volunteer Guardian ad Litem and proudly spoke about the time she has spent with the Voices For Children Foundation, an organization that serves children in foster care in Miami Dade County. Those positively impacted by her work came to the event to show their support and their stories were the highlight of her speech.
"We have to make sure that the messages we send to our children build them, not break them," Ms. Chirino said. "Let's make America great again for them."
"I will fight in Washington so that we have a country that they can grow happily in, peacefully in, safely in, and most importantly, freely in."