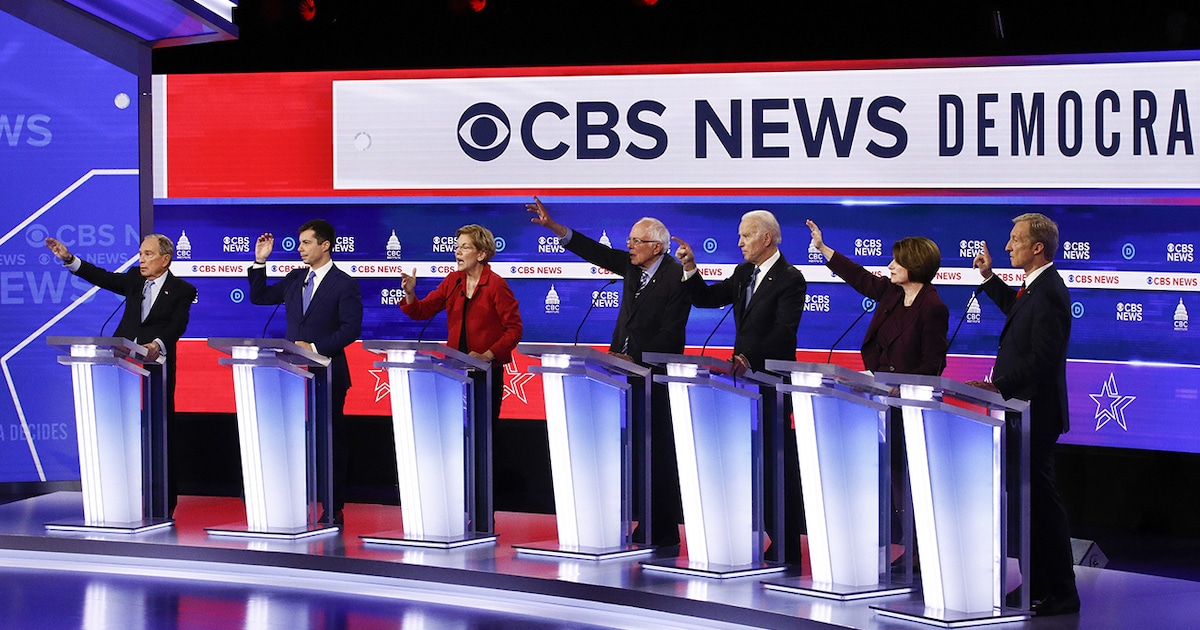 The Democratic debate hosted by CBS News in Charleston, South Carolina, devolved into chaos and confusion. The debate was the tenth for the presidential primary on the Democratic side, but it's only one in many in which the winner arguably was Donald Trump.
CBS anchors Norah O'Donnell and Gayle King quickly lost control after candidates began piling on front-runner and socialist, Bernie Sanders. South Carolina is make or break for former Vice President Joe Biden, who has long touted his strength among black Democrats.
While he has led all but one poll in the Palmetto State since the start of the primary, he has watched that lead evaporate from upwards of 31 points to a current average of 8 points.
Prior to the debate, Sanders got himself into hot water by repeating praises for the Castro Regime in Cuba, one of several communist regimes he has pointed to as models for big government policy solutions. In defense of those remarks, Sanders has claimed Barack Obama held similar views.
"Barack Obama was abroad; he was in a town meeting. He did not in any way suggest there was anything positive about the Cuban government," Biden said on the attack> He acknowledged that they did increase life expectancy, but he went on to condemn the dictatorship."
"He does not, did not, has never embraced an authoritarian regime, and does not now," Biden added turning to Sanders. "This man, in fact, did not condemn what they did."
Pete Buttigieg, who has been running ads in South Carolina and Florida claiming to be the only candidate to defeat Sanders, warned nominating a socialist would result in a "catastrophic" defeat for Democrats in November.
"We're not gonna win these critical House and Senate races if people in these races have to explain why the nominee of the Democratic Party is telling people to look at the bright side of the Castro regime."
Billionaire Michael Bloomberg repeated an unfounded report by CNN and The New York Times, in which intelligence officials claimed Russia was interfering with the election to help Bernie Sanders and Donald Trump.
"I think that Donald Trump thinks it would be better if he's president — I do not think so," he said. "Vladimir Putin thinks that Donald Trump should be president of the United States. And that's why Russia is helping you get elected, so you'll lose to him."
The Trump Campaign jumped on the chance to criticize the candidates and their performance.
"The Democrat Party is a hot mess and tonight's debate was further evidence that not one of these candidates is serious or can stand toe-to-toe with President Trump," Kayleigh McEnany, Trump 2020 national press secretary said. "The only thing that was clear in the chaos was that they're all still running on Bernie Sanders' big government socialist agenda."
"It doesn't matter who emerges from the carnage, President Trump will dominate in November."
The Republican National Committee (RNC) also criticized the candidates. But unlike the Trump Campaign, Chairwoman Ronna McDaniel focused on policy in her statement after the Democratic debate.
"The complete chaos we saw tonight shows that none of these Democrats deserve to be anywhere near the Oval Office," said Chairwoman McDaniel. "When we could hear over the crosstalk, we heard Democrats singing the same old song in support of socialism.