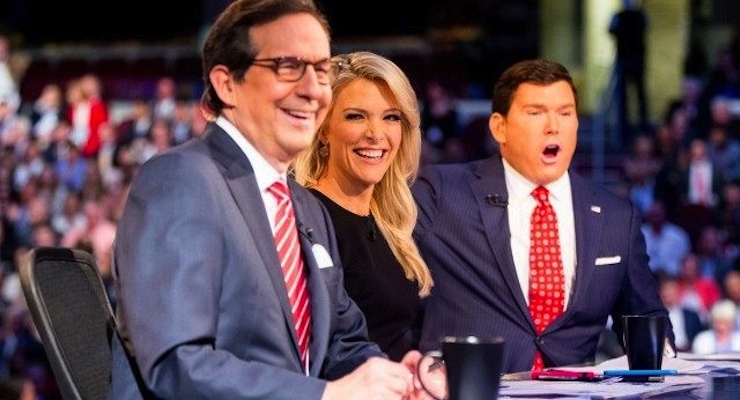 In August, FOX News hosted the first Republican presidential debate and boasted their highest ratings ever, but their brand among Republicans has tanked. According to a YouGov BrandIndex survey, their image among the general public overall has also taken a dive, and are now on par with CNN with trend lines moving in the wrong direction.
"By mid February," according to YouGov, Fox's "perception by Republican adults 18 and over had reached its lowest point in more than three years, and has declined by approximately 50% since January of this year."
Okay, let's cut to the chase. We all know why FOX, allegedly the "Most Trusted Name in News," even had high ratings, particularly during the debate. His name rhymes with Thump. And we all also know why their brand is on the decline.
To measure perception of the two networks, YouGov BrandIndex used its Buzz score, which asks respondents: "If you've heard anything about the brand in the last two weeks, through advertising, news or word of mouth, was it positive or negative?" A score can range from 100 to -100 with a zero score equaling a neutral position.
While on January 1, 2013, Fox News scored slightly over 49 with Republican adults 18 and over, the first GOP debate last August was obviously the pivot point. The score immediately after the debate dropped to 38.
What does this mean? Everyone in the media and party knew behind the scenes that FOX News collaborated with the Republican National Committee to pick and choose eligible candidates via the rules, elevate and intentional sabotage others. Well, apparently, the voters and viewers at home have caught on to their little game.
How bad is it? While he hasn't won a single contest, FOX News has repeatedly elevated and played the expectations game with Florida Sen. Marco Rubio. Brooke Sammon, the daughter of FOX News vice president and Washington managing editor Bill Sammon, also happens to be Rubio's messaging chief. Further, Sammon (the father) gave questioning cues to debate moderators Chris Wallace, Megyn Kelly, and Bret Baier.
Sammon's LinkedIn page lists her work as a "Public Relations Associate" for FOX News personality Dana Perino, who previously served as President George W. Bush's press secretary. Sammon worked for Perino at Dana Perino & Company from October 2009 to November 2010.
Indeed, Texas Sen. Ted Cruz and his supporters have also complained about unfair treatment and candidate bias toward former Florida Gov. Jeb Bush and Rubio. However, FOX News responded by claiming Sen. Cruz is not as available to them as the other candidates have been. In truth, Danny Diaz, Bush's former campaign manager, did not even appear on FOX News until a few ago during an interview with Jenna Lee.
By that time, it was crystal clear that the Bush campaign was not only not inevitable, as most FOX pundits pushed, but also that they had a real challenge in their path to the nomination.