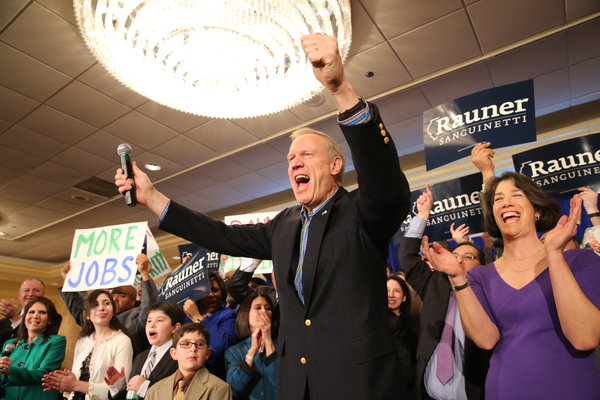 Republican businessman Bruce Rauner won the Illinois GOP primary for governor despite a late, union-backed surge supporting Kirk Dillard. With 99 percent of precincts reporting, Rauner received over 322,000 votes compared to just over 301,000 votes for Dillard.
State Sen. Bill Brady had 15 percent, and state Treasurer Dan Rutherford had 8 percent of the vote with 99 percent of the vote counted.
The unions, who Bruce Rauner promised to get under control, stopping the main driver of Illinois debt in its tracks, cancelled their ad-buy last week. But they had a ground game setup to use Democratic voters to stop Bruce Rauner by voting for Dillard, instead of for a candidate in the Democratic primary.
From the results below, we can see they clearly were successful, just not successful enough.
Dillard lost to Rauner in the senator's own home territory of DuPage County. Yet Dillard got support from Downstate Republicans, primarily those who are union members employed by the state. Not surprisingly, Dillard led heavily in Sangamon County, where the state capital and many state workers are located.
Now, Rauner will go on to face embattled Democratic incumbent Gov. Pat Quinn in the general election. He accused Quinn of practicing "the politics of division" as he labeled the governor "a failure." Rauner said voters face a stark choice Nov. 4 between the "old status quo" versus "a new direction."
Governor – Dem Primary
10026 of 10130 Precincts Reporting – 99%
| | | | | |
| --- | --- | --- | --- | --- |
| | Name | Party | Votes | Vote % |
| | Quinn, Pat (i) | Dem | 310,950 | 72% |
| | Hardiman, Tio | Dem | 122,075 | 28% |
Governor – GOP Primary
10016 of 10130 Precincts Reporting – 99%
| | | | | |
| --- | --- | --- | --- | --- |
| | Name | Party | Votes | Vote % |
| | Rauner, Bruce | GOP | 322,297 | 40% |
| | Dillard, Kirk | GOP | 301,229 | 37% |
| | Brady, Bill | GOP | 122,141 | 15% |
| | Rutherford, Dan | GOP | 61,070 | 8% |