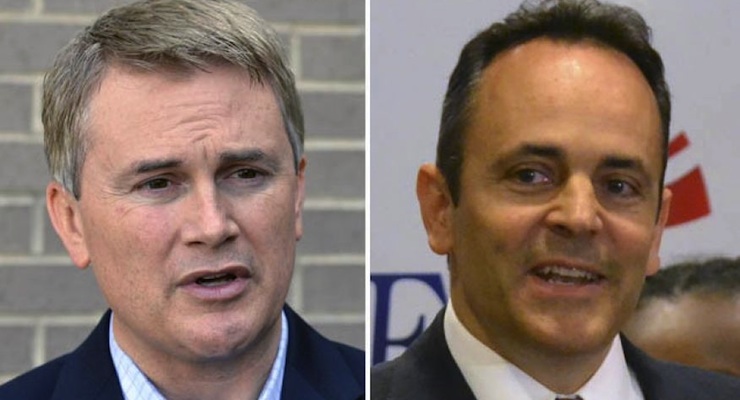 Republican Matt Bevin defeated Democrat Jack Conway in the Kentucky governor race, becoming only the second GOP governor in the state in four decades. Bevin, a businessman and Tea Party favorite, was the clear favorite on the PPD Election Projection Model, despite recent polls showing otherwise. Jenean Hampton, Bevin's running mate and retired Air Force officer who moved to Kentucky from Detroit, will become the first black person to ever hold statewide office in Kentucky.
Conway conceded the race shortly before 9 p.m. at the Frankfort Convention Center, telling the quiet crowd it was not the result he had hoped for, "but it is the result we respect." He said he called Bevin and wished him well.
"It was a cordial phone call. I told him I remain positive about moving this state forward, and if he ever needed any assistance, this Democrat was at his disposal," Conway said.
With 119 precincts out of 120 reporting, Bevin handily led Conway with 52.55% to 43.79%. Democrats, as was the case with the "competitive" Senate race in 2014, overestimated their deficit in the red state. In fact, the only thing "blue" about the Bluegrass State is its nickname. The Partisan Voting Index is now R+14, up from R+10 in 2010 when now-Sen. Rand Paul significantly outperformed expectations in the 5th Congressional District.
And here is the crux of the problem for Democrats. Traditional Democratic voters in Kentucky have been steadily trending Republican on the national level. The 5th Congressional District, a once-competitive region of the state due in large part to the heavily unionized and historically Democratic coal mining constituency, is naturally bailing on the national Democratic Party. Since the era of Obama began in 2008, the 5th District has been bleeding once-loyal Democratic voters.
While the "War on Coal" may be a sound bite for most media outlets, it's real life for Kentucky coal miners. Coupled with social and other economic issues, the old saying "All politics is local" is becoming less-and-less a factor in polarized America.
Now, Republican efforts will refocus on the state House elections in 2016, where Senate Majority Leader Mitch McConnell, R-Kty., has vowed to use his large fundraising rolodex to help the party take over the only remaining Southern state legislative body controlled by Democrats.
The PPD Election Projection Model predicts those efforts are likely to be successful.