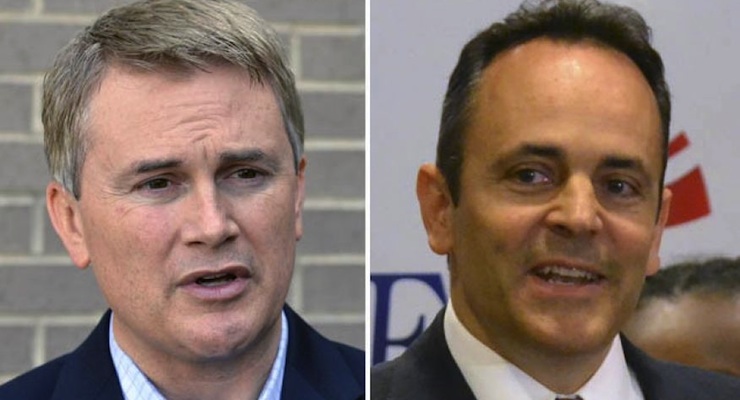 James Comer has conceded in the Kentucky Republican primary for governor to Matt Bevin, and said he enthusiastically endorses his candidacy.
In a news release Friday morning, Comer said he called Bevin and conceded minutes after a Thursday review of the May 19 primary results. It showed Bevin maintained his 83-vote lead in one of the closest elections in state history. Comer also said that during the campaign he has come to find a new appreciation for Bevin's stances on the issues, character and work ethic.
It was a divisive and bitter campaign, with Comer spending the last two weeks denying allegations from Marilyn Thomas, his former college girlfriend, who claimed he emotionally and physically abused her when they were in a relationship at Western Kentucky University more than two decades ago. That left Bevin, who used his name recognition gained during his failed primary bid for U.S. Senate against Majority Leader Mitch McConnell, to raise $5 million.
"This is a great reminder that we're in a long-term battle and even if a good candidate loses a race … they may win the next one!" Senate Conservatives Fund President Ken Cuccinelli said in an email to PPD. "Matt Bevin has a bold plan to cut taxes, shrink government, repeal Common Core, fix the pension system, repeal the state's Obamacare exchange, and stop the federal government's war on the states."
Bevin scheduled a news conference at the Republican Party of Kentucky's headquarters for 10 a.m. Friday along with the other Republican nominees in November's general election. He will face liberal Democrat Jack Conway in November, and starts as a heavy favorite in a state that has nearly expelled all Democrats from statewide office.
"I bet there is a 1000 people in Kentucky that thinks they are personally responsible for those 83 votes, and you know what… they're right," Bevin said. "This is a government of, by, and for the people. And that is a beautiful thing."