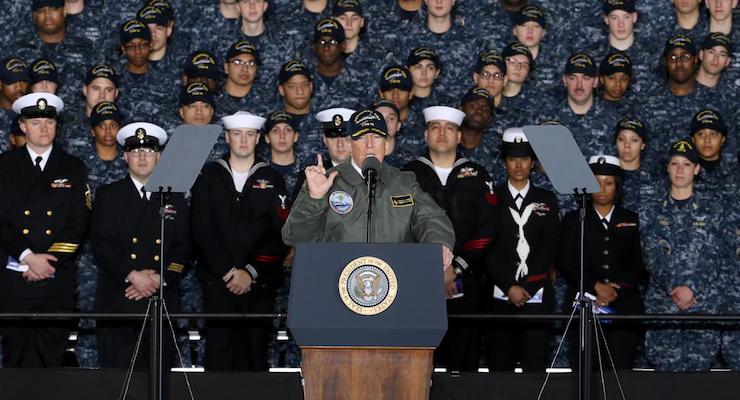 Newport News, Va. (PPD) — President Donald J. Trump on Thursday visited with U.S. Navy sailors and shipbuilders in Newport News, Virginia, and called for the largest defense spending increase in history. The president addressed Sailors from Pre-Commissioning Unit Gerald R. Ford (CVN 78) and shipbuilders from Huntington Ingalls Newport News during a visit to the first-in-class aircraft carrier.
Donning a flight jacket and unit hat, the president landed on the flight deck on Marine One accompanied by Secretary of Defense Jim Mattis. They were welcomed aboard the Ford by Chief of Naval Operations Adm. John Richardson and Capt. Richard McCormack, Ford's commanding officer.
"It was an honor to welcome aboard our commander-in-chief," said Capt. McCormack. "My Sailors have put tremendous work and energy into making Ford an operational asset to the fleet, and I could not be more proud to have him here to see this team."
Susan Ford Bales, daughter of President Gerald R. Ford and the ship's sponsor, also greeted President Trump on the flight deck before he met with Ford Sailors and shipbuilders for a roundtable discussion. The president took a tour of the carrier and the crew before the "All Hands Call" went out.
"This carrier and the new ships in the Ford class will expand the ability of our nation to carry out vital missions on the oceans and to project American power in distant lands," President Trump said to the roughly 3,500 people in attendance. "I'm privileged to stand here today with the incredible men and women of the United States Navy. American sailors are the best war-fighting sailors anywhere in the world. And it's not even close."
[social-media-buttons]
Since 2009, defense spending decreased from $660 billion to $550 billion. One-third of U.S. ground forces aren't ready to fight and agency estimates put aircraft unready for flight somewhere from 50% to 75%. Trump's increase would be the largest at one time in history, but former President Ronald Reagan doubled it under his 8-year term.
"We will give our military the tools you need to prevent war and, if required, to fight war and only do one thing — you know what that is? Win!" President Trump said, to what was a friendly audience. "I salute you, and I salute our sailors. I will always support you and your mission. I will never, ever let you down."
Still, despite the largest one-time increase, neoconservatives in the president's own party aren't satisfied with the proposed $54B in defense spending amid cuts elsewhere in the federal budget. President Trump has indicated a willingness to consider additional funds up to $30 billion, yet war hawk Sen. John McCain, R-Ariz., immediately criticized the proposal as insufficient.
"Such a budget request would represent an increase of $18.5 billion above the level proposed by President Obama for fiscal year 2018," Sen. McCain said in a statement. "In other words, President Trump intends to submit a defense budget that is a mere 3 percent above President Obama's defense budget, which has left our military underfunded, undersized, and unready to confront threats to our national security."
But the president said repeatedly during the campaign that the U.S. will learn to do more with less under his tenure, setting the tone from the top that the era of $200 hammers is over. The Ford, for instance, went way over budget and, $12.5 billion later, the president vowed to make the same carrier for less in the future.
[social-media-buttons]