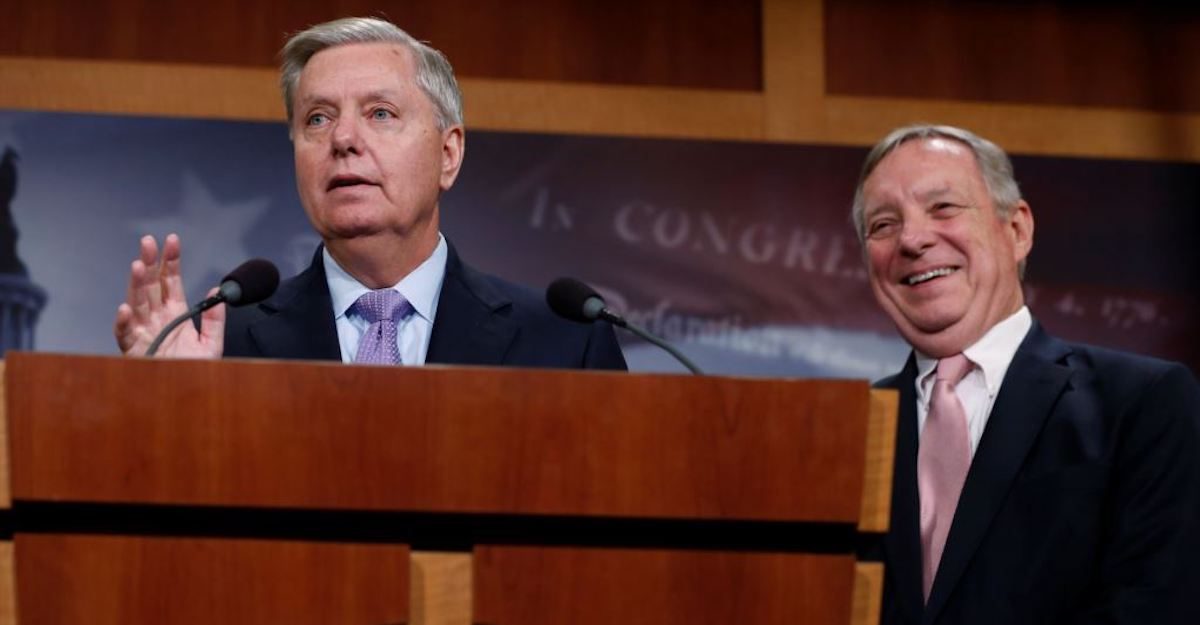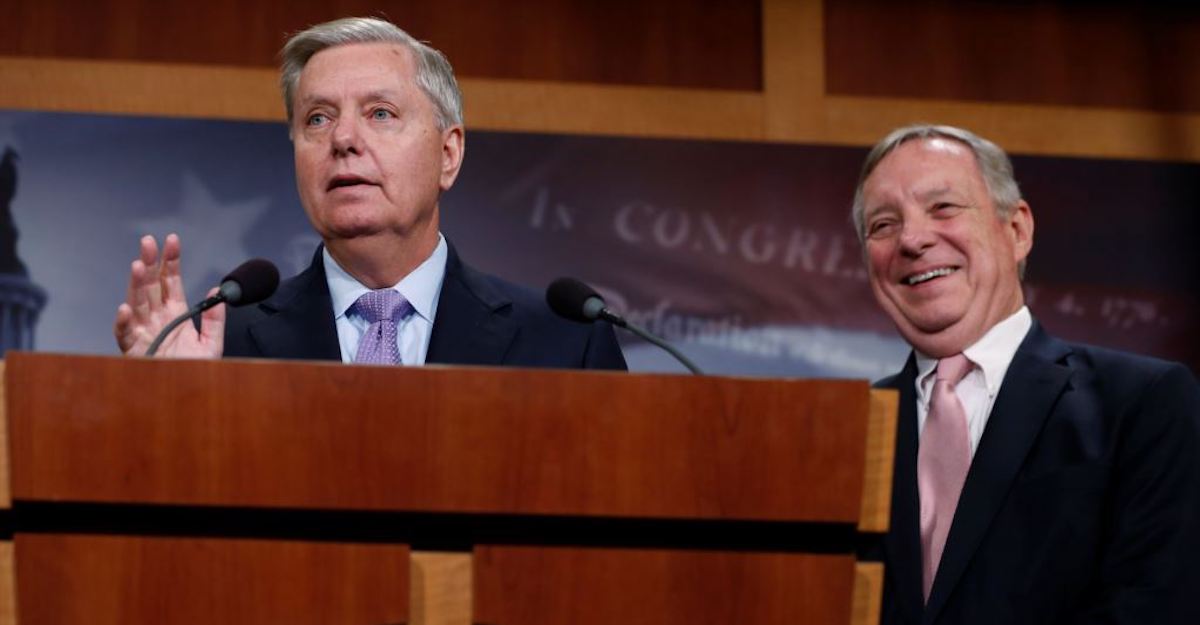 Senator Dick Durbin, D-Ill., set off a political firestorm when he claimed President Donald Trump said the U.S. shouldn't allow immigration from "s—hole" nations like Haiti. Ironically, fellow amnesty supporter Senator Lindsey Graham, R-S.C., raced to half-confirm and fully condemn President Trump for his choice of words.
"He said these hate-filled things, and he said them repeatedly," Mr. Durbin, the Minority Whip in the U.S. Senate told reporters, calling the words "vile and racist."
The White House and the President denied that specific language was used, though in a tweet he admitted to using "strong language."
While Big Media and Democrats praise Senator Graham, which he no doubt craves, we were digging up his old statements. The amnesty-pushing senator from The Palmetto State once called Mexico and other nations South of the border "hellholes."
"The people coming across the southern border live in hellholes," Senator Graham said during debate in the Judiciary Committee on an immigration bill he co-authored in 2013. "Our problem is we can't have everybody in the world who lives in a hellhole come to America."
He went on to offer more insight into whether his support for a wall is credible.
"There are 11 million people coming through the southern border 'cause they come from countries where they can't find work, and life is miserable," he added. "So, it seems to me that if you can control who gets a job you've gone a long way in controlling illegal immigration. Because as long as the jobs are available in America you can't build a fence high enough to stop people."
Worth noting, it was Attorney General Jeff Sessions — then a senator from Alabama who has also been smeared by accusations of racism — who corrected Mr. Graham and threw him a lifeline.
"It's not a hellhole," then-Senator Sessions, R-Ala., said in response. "It has great things going on in Mexico, we're proud of the people in Mexico."
Similarly, Barack Obama blamed former British Prime Minister David Cameron for turning Libya into a "s—show," an accusation meant to assign blame for the state of the nation after the fall of Muammar Gaddafi. In truth, Hillary Clinton convinced Mr. Obama to topple the former Libyan dictator when then-Defense Secretary Bob Gates, then-Vice President Joe Biden, Valerie Jarrett and the entire National Security Council opposed it.
Now, two senators are disputing the allegations and choice of words.
"I didn't here it, and I was sitting no further away from Donald Trump than Dick Durbin was," Senator Tom Cotton, R-Ark., said Sunday. "And I know what Dick Durbin has said in the past about the President's comments, repeatedly, are incorrect."
"Senator Durbin has misrepresented comments in the Oval Office before."
Mr. Cotton is referring to a 2013 Facebook post by Senator Durbin, which claimed a House Republican told then-President Obama, "I cannot even stand to look at you," during a meeting.
It was at best unsubstantiated and, at worst, flatly untrue.
Speaking to ABC News' George Stephanopoulos on "This Week," Senator David Perdue, R-Ga., slammed the allegation the word "s—hole" was used to reference Haiti and Africa.
"I'm telling you he did not use that word, George," Senator Perdue said. "And I'm telling you it's a gross misrepresentation. There were six of us in the room. I haven't heard any of those six sources other than Senator Durbin talk about what was said."