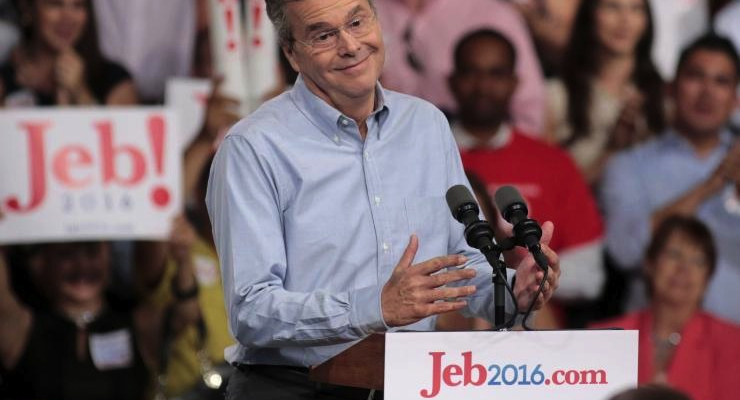 Former Florida Gov. Jeb Bush officially entered the crowded 2016 Republican presidential field on Monday at an event at Miami Dade College. However, a new poll suggests the once-presumed-to-be frontrunner has a lot of work to do to overcome an inherent challenge no other candidate seems to have — his last name.
A new Rasmussen Reports survey finds that 43 percent of U.S. likely voters say they are less likely to vote for Bush due to the fact that his father and brother both served as president. While not a majority, only 15 percent said they are more likely to vote for Jeb because of his family's political stature. Thirty-nine percent (39 percent) claimed the Bush name would have no impact on their vote and 3 percent said they weren't sure.
"Though Rasmussen doesn't rate particularly high on PPD's Pollster Scorecard, they are confirming what we clearly have observed in other polls," said PPD's senior political analyst, Richard D. Baris. "The Bush name continues to be a net negative, even though his brothers popularity is markedly better than President Obama's at the moment."
A recently released CNN/Opinion Research poll found a majority of Americans now view former President George W. Bush favorably by a 52 to 43 percent margin. Obama, on the other hand, was underwater.
While Jeb's stance on Common Core — the increasingly and broadly unpopular education standards — certainly hurts him, it isn't the number one reason voters won't support him.
"We don't need another Bush in the White House" tops the list with 42 percent in another recent poll, while "his stance on Common Core" (19 percent) is a distant second. Worse still, among the general electorate, Bush has the highest unfavorable ratings proportional to name recognition than any other declared or hopeful candidate in the Republican nomination field.
The survey of 1,000 Likely Voters was conducted on June 14 and 15, 2015 by Rasmussen Reports. The margin of sampling error is +/- 3 percentage points with a 95% level of confidence.