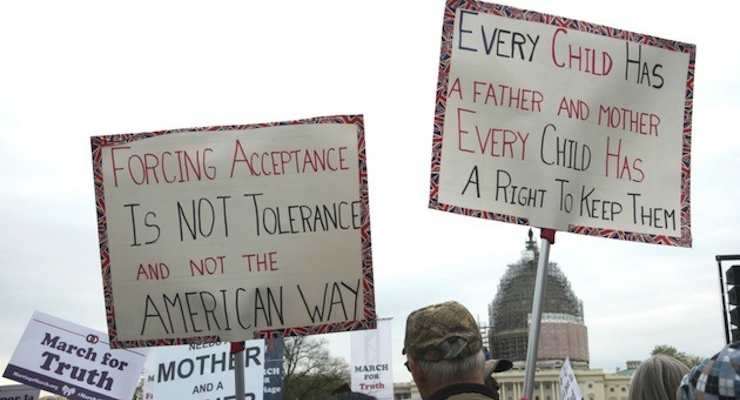 Whether you are for or against same-sex marriage, you should be concerned data suggest a prolonged culture war will now follow the Supreme Court ruling.
In fact, if you are against civil unrest and pro-federalism, then you should be against the Supreme Court issuing any ruling that effectively coerces culture, morality and marginalizes a central tenet of a faith or philosophy held by the vast majority of the body politic.
But let's separate the philosophical from the numbers. We hear a lot about the marked shift in national public opinion in favor of same-sex marriage, as well as the fact a majority of states legalized the practice before the high court's ruling. But what we don't hear about is how proponents of same-sex marriage achieved those results, or if we should even give too much weight to the not-so overwhelming margin that constitutes this national trend.
It's important to remember — particularly when considering the prospect of a culture war — the United States is just that; individual states with individual cultures and identities acting as a laboratory for democracy. This is the essence of our Republic, and despite progressives' best efforts to nationalize the electorate such as the passage of the Seventeenth Amendment, our essence as a collective nation of states has largely prevailed in spirit and practice.
Let's take a look at public opinion of sex-same marriage state-by-state, which helps to underscore that difference in culture and identity. Further, when we look at aggregate polling margins and compare them with actual vote totals when same-sex marriage has been on the ballot, at the very least we find an electorate that demonstrates elasticity on an issue like no other. As we have seen with abortion, such issues have a tendency to swing back-and-forth, which is even more likely if stories of Christian persecution and coercion become the norm, as many suspect it will.
(NOTE: Polls are linked to the latest aggregate data on Wikipedia, but final surveys are from "State of the States of same sex marriage". Publicreligion.org. Public Religion Research Institute. 2015-02-11.)
Clearly, we have an enormous problem convincing Mississippi that Massachusetts knows what is best for them. Second, in my state of Florida, for instance, we are also asked to believe a 12-point margin exists in favor of same-sex marriage when it was voted down by over 60 percent of the vote in an otherwise strongly Democratic electorate.
Let's look at how citizens have actually voted on the issue before discussing the separate issue of whether we violate the very principles of American governance when we decide such issues by asking 9 people, or in this case, 5 people. Worth asking, as well, is why proponents of same-sex marriage were so opposed to the democratic process if the public opinion trend was so favorable to their position.
Only 11 states have redefined marriage democratically, 8 through the legislatures and 3 through popular vote. In the 37 states that recognized same-sex marriage before the Supreme Court decision, 26 were forced to do so by courts and 21 of them voted against it with at least 60 percent of the vote.
Including 2012, when the state of North Carolina voted overwhelmingly (61 percent) to ban same-sex marriage, more than 50 million Americans have weighed in on whether to change the definition and institution of marriage at the ballot box. Those results are very much in line with the average across the nation. Overall, if we average the results from each referendum, a whopping 67.7 percent of the 50 million Americans who voted on same-sex marriage voted against it.
When comparing the actual vote totals with the aggregate polling in support of same-sex marriage one might be tempted to chock up the disparity to generational shifts and persuasive arguments by activists. However, if those and other factors have moved public opinion so dramatically that we are to disrespect and disregard the votes of over 50 million Americans and their sincerely held faith and beliefs, then obviously we too must ignore the obvious question.
If public opinion was so strongly in their favor, then why did proponents of gay marriage need to dismantle the very fabric of federalism, rather than put their argument to the ultimate test — a vote? After all, the Left has been the champion of the "one man one vote" movement to transform the Republic into a democracy, which James Madison prophetically wrote would "cannibalize" itself. So, why pull a Roe v. Wade on 50 million American voters?
Recent revelations indicate that Science, one of the world's leading scientific journals, published a completely fabricated study on gay marriage last December. The report, which has been cited by multiple activists and pollsters to justify their efforts and results, found gay activists' efforts to sway public opinion in conservative districts that voted against same-sex marriage were remarkably successful.
However, following reports from The Wall Street Journal, The New York Times, The Washington Post and People's Pundit Daily, one of the study's co-authors asked the journal to retract the publication. Donald P. Green, a Columbia University professor who signed on as a co-author of Mr. Michael LaCour's study, bailed on the findings before losing his career. Apparently, Mr. LaCour made up the study out of whole clothe, a study widely heralded as further evidence of this marked shift in public opinion.
Our form of government was established as a Republic founded on small "r" republicanism, not a one-size-fits-all. Even the very idea of congressional districts was born out of our founders' respect for the principle of proper representation, one that sets up a system of government in which the elected represents his or her constituents' set of values.
Comparing abortion with same-sex marriage — though I've heard several good arguments for and against doing so — is ultimately a fair comparison. For starters, both issues speak to faith. It is difficult for the unbeliever to understand, but those who oppose abortion and same-sex marriage because of sincerely held beliefs and faith cannot be swayed by five judges. In fact, as Chief Justice Roberts pointed out, the court's ruling is more likely to make it worse.
"Supporters of same-sex marriage have achieved considerable success persuading their fellow citizens—through the democratic process—to adopt their view. That ends today," Roberts wrote in his dissent. "Five lawyers have closed the debate and enacted their own vision of marriage as a matter of constitutional law. Stealing this issue from the people will for many cast a cloud over same-sex marriage, making a dramatic social change that much more difficult to accept."
For once, I find myself in agreement with the Chief Justice, and am afraid that the data lays completely with his argument. At the end of the day, no matter what your position on same-sex marriage, the decision in Obergefell v. Hodges — like Roe v. Wade — has settled nothing.

Check out the People's Pundit's book below!
[mybooktable book="our-virtuous-republic-forgotten-clause-american-social-contract" display="summary" buybutton_shadowbox="true"]