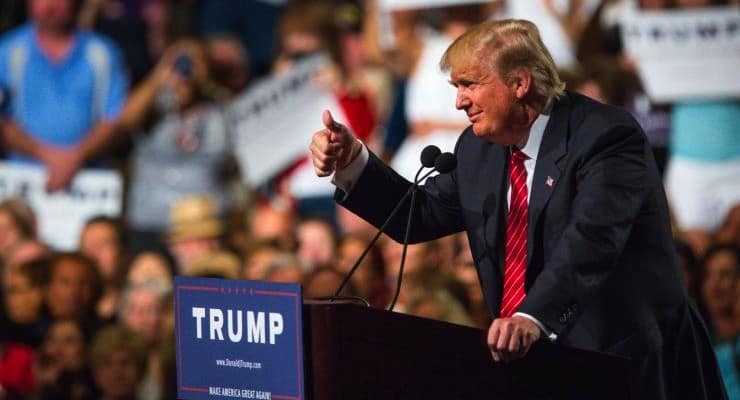 Media outlets and GOP hopefuls alike were quick to pounce on Donald Trump for claiming he would win the Latino vote in an interview with NBC. But according to a new poll by Gravis Marketing, Nevada "Latinos love Trump," as the 2016 presidential candidate and billionaire mogul claimed.
Donald Trump is way out in front of his rivals at 27.7 percent, with Wisconsin Gov. Scott Walker, who recently announced, in second with 15 percent. In third, Dr. Ben Carson enjoys 7.8 percent with Jeb Bush a point behind at 6.8 percent. Florida Sen. Marco Rubio, a Cuban-American, rounds out the top five with 5.4 percent.
"We see a significant change in Nevada from the last poll we conducted," said Doug Kaplan, President of Gravis Marketing. "Trump is taking the oxygen out of the room. He is taking votes from Bush and Cruz."
Former Florida Gov. Jeb Bush had some harsh words for fellow Republican presidential candidate Donald Trump regarding his rhetoric on illegal immigration. Bush has repeatedly claimed that Trump's rhetoric will turn off Hispanic voters in the general election. However, according to Gravis Marketing, which enjoys an A- rating on the PPD Pollster Scorecard, Bush's claims are off base, at least in the Silver State.
When Hispanics are polled in general, Trump's support jumps to 31.4 percent, higher than his overall performance of 27.7 percent. The only other candidate to receive double digit support from Hispanic voters is Scott Walker with 11.4 percent.
"The strong showing by Donald Trump can't be ignored," says Robert Herring, Sr., CEO of One America News Network, who commissioned the poll. "Trump is clearly resonating with voters and, at least in Nevada, his 20 percent lead over Jeb Bush is commanding. Scott Walker, Ben Carson and Marco Rubio continue to poll well, yet it's still early in the campaign process with over 20% of the Republicans polled still undecided."
On the other side of the aisle, Democratic frontrunner Hillary Clinton leads with 55.4 percent, a 37.1 percent lead over Bernie Sander at 18.3 percent. Clinton and Sanders are the only two candidates receiving double digit results.
"Bernie Sanders continues to poll in the double digits and possesses the closest threat to the Clinton campaign," Herring said.
"Hillary is still over 50% and cruising to the nomination," Kaplan added.