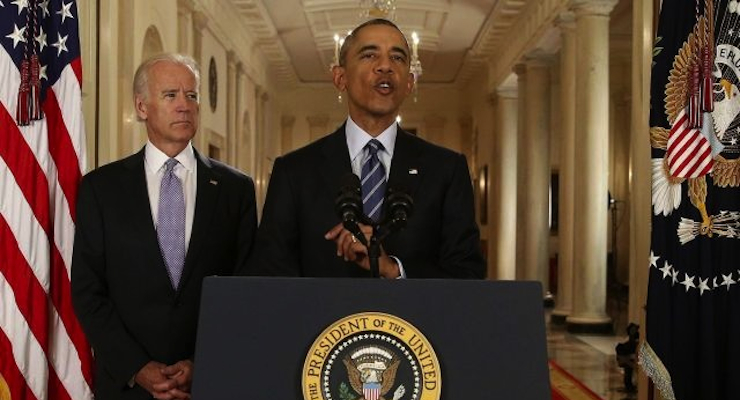 Poll: Americans Continue to Oppose Iran Deal
Opposition to the Iran nuclear agreement has held steady since shortly after the president announced the historic deal with the regime in Tehran. A new FOX Poll of 1008 registered voters finds 58 percent of Americans would vote against the Iran nuclear agreement if they were in Congress, while only 31 percent said they would vote in favor of it.
Average opposition–which PPD calculates using a variety of pollsters' questions–was largely unchanged over the past few weeks since we last visited and aggregated the data on August 3. On average, 58 percent of Americans oppose the deal, which mirrors the FOX Poll, but an even lower percentage (29 percent) on average are supportive. Interestingly, Americans express a willingness to support a deal with the largest state-sponsor of terrorism, just not the one Obama and Secretary of State John Kerry negotiated.
In fact, President Obama said recently that those who oppose the deal are aligning themselves with the radical elements in Iran, and warned that if Congress rejects the deal war is inevitable. However, Americans, including 35 percent of Democrats, aren't buying it. Only 50 percent of Democrats would support the deal, despite the president's dire warning (scare tactic).
Do you support or oppose the nuclear deal with Iran?
                     Tot    PPD    Rep    Dem    Ind    Men    Wom
 
Support              31%    29%    7.5%   51%    27.5%  32.5%  28%
Oppose               58%    58%    85.5%  33.5%  57.5%  50.5%  56%
DK/NA                10%    11.5%  6.5%   15.5%  12.5%  8.5%   16.5%
The reason for opposition has been equally consistent and two-fold–no one believes Iran will keep their end of the deal or that it will make the world/region a safer place. A whopping three-quarters (75 percent) of voters say Iran cannot be trusted to honor the agreement (75 percent), which includes almost all Republicans (93 percent), most independents (80 percent) and even a majority of Democrats (59 percent).
The Fox News poll is based on landline and cell phone interviews with 1,008 randomly chosen registered voters nationwide and was conducted under the joint direction of Anderson Robbins Research (D) and Shaw & Company Research (R) from August 11-13, 2015. The poll has a margin of sampling error of plus or minus three percentage points for all registered voters.