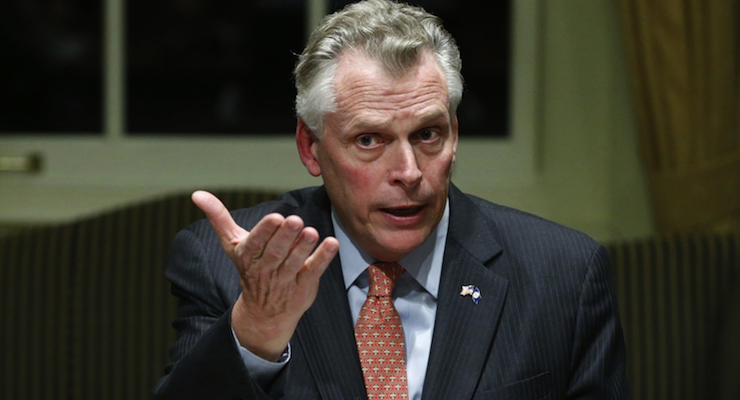 Despite the immediate and intense push from the left following the Virginia shooting on live television, most voters still will not support federal gun control laws. In fact, voters say the federal government should not have the final say on gun ownership and don't even like a country in which guns are only widespread within the government.
A new Rasmussen Reports poll finds that just 34% of likely voters think gun laws regarding ownership should be the responsibility of the federal government. Interestingly, that level of support is down from a high of just 38% measured in December prior to a reporter and her cameraman being shot and killed by a disgruntled, race-baited coworker in August. It was only minutes after the bodies of Adam Ward, 27, and Alison Parker, 24, were found at the scene when Virginia Gov. Terry McAuliffe decided to call for stricter federal and state gun control laws, despite having no idea what the specifics of the case were or even if his proposals would've prevented the shooting.
As it turns out, Vester Lee Flanaga, a.k.a. Bryce Williams, passed a background check and none of McAuliffe's stricter state-level proposals would have prevented him from committing the murder. While McAuliffe has deleted several of the tweets from the day that exposed his willingness to politicize the tragedy, his statement remains. In the governor's official statement, also tweeted out that very same day, he called for legislative action on gun control.
Governor McAuliffe's statement on conclusion of search for Smith Mountain Lake shooting suspect. pic.twitter.com/Jnmda4NmTh

— Terry McAuliffe (@GovernorVA) August 26, 2015
And he has continued his efforts, with the latest event being held just the other day. The governor, a well-known Clintonite, quickly paraded out Parker's father who presented himself as a devastated parent begging for a nation's mercy. However, Mr. Parker has been a longtime proponent of gun control, and a longtime liberal. He ran unsuccessfully for a seat in the Virginia legislature and, in fact, enjoyed the endorsement of all the pols in the tweet below.
Gov, @markWarner & @timkaine join @Everytown & Andy Parker at #WhateverItTakes rally to reduce senseless gun violence pic.twitter.com/LXZGpU9ZHR

— Terry McAuliffe (@GovernorVA) September 10, 2015
But McAuliffe's allies and gun control counterparts on Capitol Hill have a steep hill to climb. In addition to the 34% of voters who say the feds shouldn't have any role whatsoever, slightly more (36%) believe gun ownership is a state government issue and their responsibility, alone, while another 18% say the Second Amendment should only be considered at a local government level. Twelve percent (12%) said they aren't sure.
The national survey of 1,000 Likely Voters was conducted on September 20-21, 2015 by Rasmussen Reports. The margin of sampling error is +/- 3 percentage points with a 95% level of confidence.