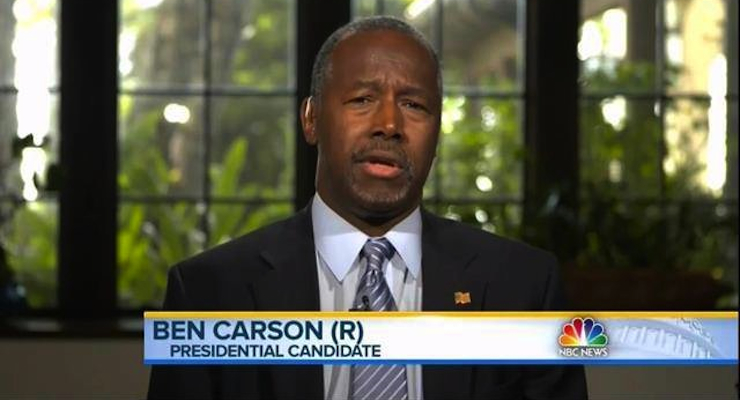 America Voters Say No Way to a Muslim for President
The media had a meltdown when Dr. Ben Carson said Sunday on NBC's "Meet the Press" that he "would not advocate that we put a Muslim in charge of this nation" because Islam is not consistent with core values and American principles. However, according to a new Rasmussen Reports poll, the majority of Americans agree with Dr. Carson and say they would not be willing to vote for a Muslim president.
While 51% of likely voters said they would not vote for a Muslim president and 52% said most of their family, friends and co-workers also would not be willing to cast that vote, a whole fifth of the electorate (20%) said they weren't sure. Rasmussen deduced "the large number of undecideds suggests that many voters are unwilling to reveal their opinion on what is seen as a controversial topic," which I would absolutely agree with.
Unsurprisingly, by party, Democrats, who dominate the media, are on the other side of the fence when it comes to the question than their fellow Americans. Republicans are more than twice as likely as Democrats–73% to 35%–to say they would not personally vote for a Muslim president, and roughly half (48%) of voters not affiliated with either major party, agrees. However, considering the fact that a large number of unaffiliated voters say they are undecided, it can safety be assumed that a larger-than-reported number would not be willing to cast that vote, either.
Host Bill O'Reilly said Monday night in his Talking Points on "The O'Reilly Factor" that the media questioning Dr. Ben Carson on muslim presidents "is stupid."
"All of this PC fog has shrouded important issues," O'Reilly said, citing a report released by the U.S. Census Bureau last week that showed that median household income, adjusted for inflation, is nearly $1300 lower today than it was when Obama took office. "The liberal media largely ignores the facts. Instead trumping up dopey stuff about muslims."
American voters unquestionably agree with Mr. O'Reilly's Talking Points. A large majority (71%) of Americans believe political correctness is real a problem in modern America today, and 73% think Americans have to be careful not to say something politically incorrect to avoid getting pounced on by the PC police. Even more specific, 75% of American voters believe that the media is more interested in creating controversies about candidates than they are about reporting where they stand on the issues, for instance.
The results can be juxtaposed to when Barack Obama won the Democratic nomination in 2008, as roughly 80% of American voters said they could support and vote for a black president. But it is clear that is because they do not have the same concerns about black Americans than they have about followers of Islam.
Forty percent (40%) of American voters believe most Muslims around the world view the U.S. as an enemy, though that is down from a high of 49% measured earlier this year. Still, only 35% don't think most Muslims see the nation as an enemy, and 24% say they are not sure. Fifty-two percent (52%) believe Islam as practiced today encourages violence more than most other religions. Seventy-five percent (75%) think Islamic religious leaders need to do more to emphasize the peaceful beliefs of their faith.
Carson, a Christian and now retired brilliant child neurosurgeon, doubled down on his comments even as he hoped to clarify them a bit. But, as the polling results indicate, he has no reason to fear a real political backlash from his statements. The Hamas-linked Council on American-Islamic Relations (CAIR) called for Dr. Carson to drop out of the race, but as Bill O'Reilly pointed out, that would not accurately reflect the political reality among the electorate.
"This country is devolving quickly, and it has nothing to do with a phony war on women, muslim presidents, or global warming. It has everything to do with staggering incompetence," O'Reilly added. "The muslim line of questioning is stupid."