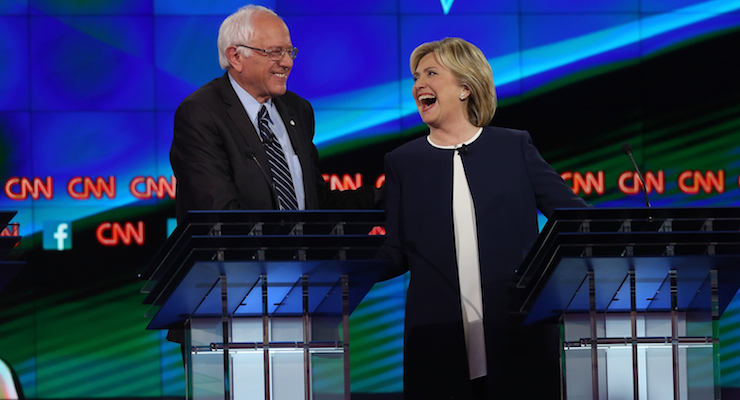 The former secretary of state and frontrunner took a huge risk by defending capitalism in Las Vegas against socialist Vermont Sen. Bernie Sanders on Tuesday. However, according to a new Gravis Marketing Post Democratic Debate Poll, Hillary Clinton handily won round one sponsored by CNN and Facebook at Wynn Las Vegas.
When asked by Anderson Cooper if he was anti-capitalist, he said he was against the system of "casino capitalism," though he defined it in generalities. Mrs. Clinton hit back in a modest defense of the model responsible for lifting more people out of poverty than any other, but it was a defense, nonetheless. Yet, Bernie's anti-capitalist rhetoric is red meat to the far left Democratic base, though it didn't seem to get him too far.
The nonpartisan Gravis Marketing (PPD Pollster Scorecard Rating: A-) surveyed 760 registered Democratic voters across the U.S. over the performance and opinions of the Democrats that took place in the first Democratic Primary debate. The poll, which was conducted for One America News Network (OANN), has a margin of error of ± 3.6% and was conducted using automated telephone calls (IVR technology) and weighted by party voting habits.
Hillary runs away with 62% of Democratic voters saying she won the debate, with Sanders coming in at a distant second with 30%. Meanwhile, former Rhode Island Gov. Lincoln Chafee, who was the only one with the courage to challenge Clinton on character, which nearly two-thirds of general election voters say they view unfavorably, took a big hit over it. Forty-three (43%) of registered Democratic voters who saw the CNN Democratic debate say Gov. Chafee lost.
Former Virginia Sen. Jim Webb, a war hero and conservative Democrat, also took a big hit for taking positions that are out of step with the far left-wing of the modern Democratic Party. A whole 51% say they now see Sen. Webb–again, a war hero who didn't mention global warming as the No. 1 national security threat–less favorable than they did prior to the debate. However, he was seen as whining about time and Cooper, the CNN moderator, had to tell him he agreed to the rules of the debate ahead of time.
Ironically, it was Cooper who wasn't abiding by his network's own rules, allowing Clinton, Sanders, and former Maryland Gov. Martin O'Malley on numerous occasions to speak beyond their time. Further, each candidate did not receive an equal number of questions let alone afforded equal time for answering questions. Regardless, only Chafee at 57% received a more unfavorable "Before & After" mark than Webb.
Worth noting, unlike Republicans, a sizable number of Democrats (37%) say they haven't decided whether they would vote down party lines despite which candidate ends up the inevitable Democratic nominee. That is likely not an endorsement of the inevitable Republican candidate, but instead more likely a danger sign that some Democrats would stay home if either Sanders or Clinton prevail. Thus far, even with Donald Trump as the hypothetical nominee, we haven't seen evidence of that voter sentiment across the aisle.
As PPD previously noted prior to the debate, polls suggested the media hype leading up to Tuesday night was unfounded. Clinton is still the overwhelming favorite of likely Democratic voters nationwide, with 75% who say she is the likely nominee including 40% who say it's very likely. By comparison, only 10% think Joe Biden is very likely to be the nominee, and nine percent (9%) feel that way about Sanders.