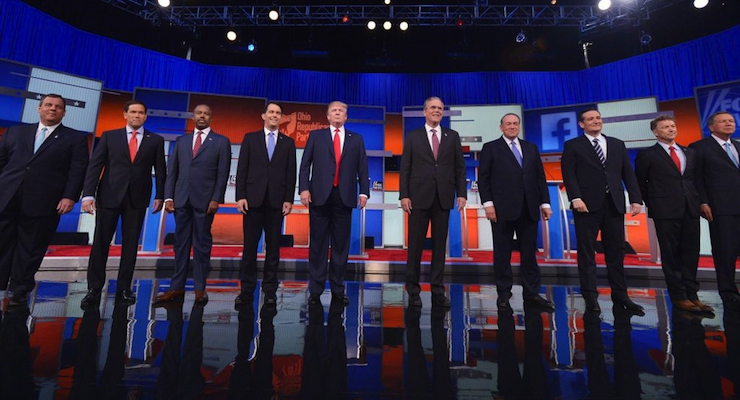 Despite the post-CNN debate media narrative, The Donald continues to dominate the crowded 2016 Republican field and has consistently led the more-establishment candidates in their own home states.
According to the PPD average of polls, the billionaire real estate mogul leads in the battleground state of Florida by 12%, topping both home state candidates Sen. Marco Rubio and former Gov. Jeb Bush. The latest Quinnipiac University Poll mirrored exactly the aggregate average, showing Trump ahead of his closest rival by 12%. Trump took the lead in the Sunshine State in the beginning of August and has not only held it but expanded his lead since.
In Ohio, where home state Gov. John Kasich has boasted winning all but two counties in his 2014 reelection win, Trump leads runner up Dr. Ben Carson Kasich by 5% and 10%, respectively. It is true that Kasich handily defeated his Democratic opponent 63.85%-32.85%. But it is also true that Ed FitzGerald was caught in a parking lot during the wee hours of the morning with a woman that wasn't his wife, and the party bailed on him. Nevertheless, Kasich led in the Buckeye State up until mid-August by 6%, but no more.
In the barely battleground state of Pennsylvania, home to 2016 hopeful and former Sen. Rick Santorum, The Donald holds a 6-point lead over his closest rival, Dr. Carson. In fact, Sen. Santorum, who was considered the 2012 runner up to eventual nominee and former Massachusetts Gov. Mitt Romney, is polling only at 2%. The Keystone State has actually trended rightward over the last 8 years, though PPD's 2016 Presidential Election Projection Model still finds the state a heavy-but-not-impossible lift for Republicans, who start out with a 400,000 vote deficit statewide (not including the rampant fraud in the Philadelphia precincts).
Worth noting, Texas Sen. Ted Cruz has also lost his lead in his own home state, as the latest Texas Lyceum survey showed Trump leading by 5%. However, Texas polling is not very consistent or widespread. Further, the only state from which a GOP hopeful is running and Trump is not leading is Louisiana, that is, if you take the latest survey at face value. A WWL-TV/Clarus survey in late September found Dr. Carson with a 4-point lead, though Gov. Bobby Jindal has never led in his own home state.
While it did appear that Trump's national lead had begun to level off and even settle in the low-to-mid single-digits, the latest PPD average of national nomination polls shows him in the lead at 8.8%. That represents a 3-point increase since the week prior. On the Rasmussen Reports "Trump Change" inevitability index, Donald rebounded by 6 points to 58% as far as those who believe he is likely to end up as the party's nominee.
The latest numbers remain well ahead of the 27% of likely Republicans voters who felt his nomination was likely at the time he formally announced his candidacy at Trump Tower in mid-June, though Trump is still down from an overall high of 66% a month ago.