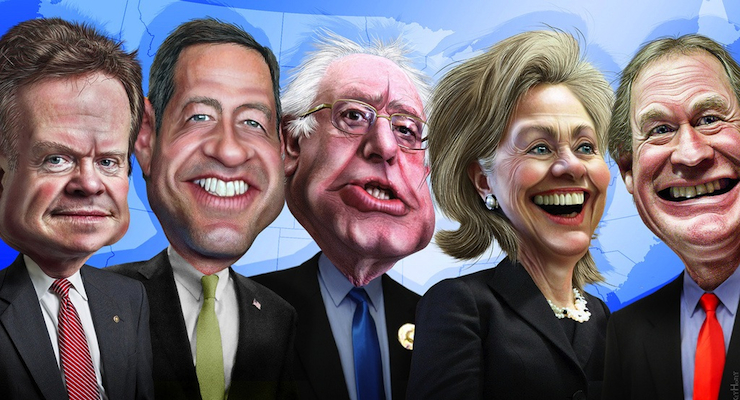 During the first Democratic debate, it quickly became obvious that former Virginia Democratic Sen. Jim Webb was on the wrong stage and, perhaps, in the wrong party. Webb, a centrist and former Republican, recently dropped out of the race after failing to gain any traction among voters in an increasingly leftward-shifting Democratic base.
In fact, while we often hear from the mainstream media how far right the Republican Party has moved during President Obama's tenure, polls consistently show it is the Democratic Party that has moved increasingly farther from the historical center of American politics.
Vermont Sen. Bernie Sanders, a self-declared socialist and 2016 Democratic candidate for president, raised roughly the same amount of money in the third quarter as former secretary of state and frontrunner Hillary Clinton. Further, despite his political orientation, Sanders is either leading or slightly trailing Mrs. Clinton in the early voting states of Iowa and New Hampshire.
The fact is that Democrats are becoming what their political opposition has accused them of becoming–socialists.
According to a new Rasmussen Reports survey, most voters in the Democratic Party now have a positive view of socialism, though they remain almost evenly divided as to whether they like capitalism or socialism more. A recognition of this sentiment was on full display during the first Democratic debate, when Secretary Clinton offered a half-hearted defense of capitalism in defense to an attack from Sen. Sanders.
Worth noting, Clinton, by far, has raised more money from Wall Street than any other candidate on either side of the aisle. As Charlie Gasparino has repeatedly and correctly reported, the relationship between Clinton and Wall Street is a wink and a nod. Nevertheless, the results of the Rasmussen poll are similar to a recent Gallup survey conducted in June, which found 59% of Democrats say they would have no problem voting for a socialist in the presidential election.
In 2010, Gallup found just 36% of Americans overall had a favorable view of socialism, which included 53% of Democrats (41% had an unfavorable view). On the other side of the aisle, 74% of Republicans and 54% of moderates had an unfavorable view of the statist-based system.
What accounts for the trending popularity of socialism, a system of government responsible for the Holocaust and tens of millions of human deaths in the twentieth and twenty-first centuries?
Dan Mitchell, CATO economist and PPD contributor, said during a recent interview with Dana Loesch that Bernie Sanders, by definition, isn't even a real socialist. Perhaps Mr. Mitchell is on to something. Either Mr. Sanders is being completely dishonest–a possibility Mitchell and Loesch seriously entertained–or he doesn't really understand the economic and political basics of government philosophy. If so, then why should we expect his followers to understand the difference?
"He doesn't understand what socialism means," Mitchell said. "If your an economist, the one thing you learn the technical definition of socialist is government ownership of means of productions… The Cubans are real socialists. Bernie Sanders is not a real socialist."
Mr. Mitchell is certainly correct on the terminology. Still, statism is statism, regardless of the form it takes. The centralized-loving National Socialist German Workers' Party (NAZI), which under Adolf Hitler controlled Germany from 1933 to 1945 and advocated totalitarianism, was directly responsible for World War II and the Holocaust. They, as well as their statist communist counterparts post-World War II, held the same territorial expansionary ambitions that leftists oft-criticize capitalist "colonial" powers for having. But the bottom line is that there seems to be too much focus on the brands of statism and too little focus on the result.
"A genuine socialist believes in government ownership of the means of production. In other words, nationalized factories, government-run businesses, and collective farms. If Sanders believes in these policies, he's remarkably reluctant to share his perspective," Mitchell wrote in a recent article on PPD. "In reality, Sanders is like Obama. You can call him a statist, a corporatist, or even (as Tom Sowell correctly notes) a fascist."
I suspect obfuscating these differences and redefining the terminology have undoubtedly driven the increased favorable view of socialism in America, particularly among Democratic Party voters. It would be interesting if pollsters would drill down on these questions in order to confirm my suspicions, which PPD has decided to do over the next few weeks.