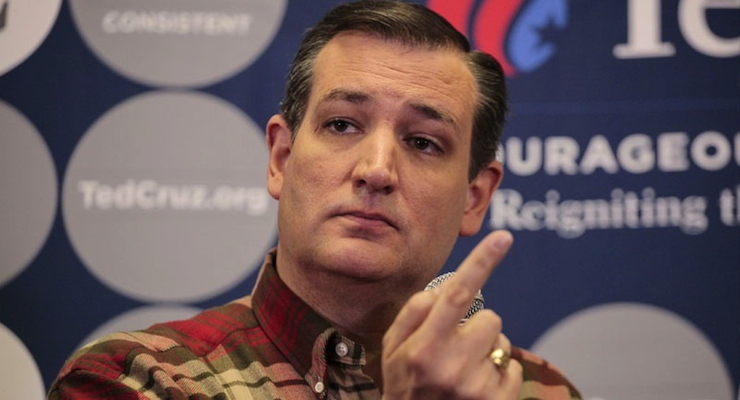 Texas Sen. Ted Cruz now holds a slight 1-point lead on the PPD average of Iowa Republican caucus polls, but has topped the last three public polling surveys taken in December by 5, 2 and 10 points, respectively. The latest Des Moines Register Poll conducted by Selzer & Co., the gold standard poll on the PPD Pollster Scorecard, shows Cruz cruising along weeks before the caucus with a 10-point lead.
There's little doubt that two things have happened in Iowa, which we anticipated as it drew closer to the caucus.
First, Cruz is beginning to coalesce those "courageous conservatives" he keeps talking about on the ground, as 69% of voters who identify themselves as "very" conservative say they see him in a favorable light. The Texas senator was only the choice of 10% of likely Republican caucus-goers in the previous Iowa Des Moines Register Poll conducted in October, which marks an unprecedented 21% jump.
"Big shakeup," said J. Ann Selzer, pollster for The Des Moines Register/Bloomberg Politics Iowa Poll. "This is a sudden move into a commanding position for Cruz."
Dr. Ben Carson, the other competitive "outsider" candidate save for national frontrunner Donald Trump, has tanked 15% since October to third place. Cruz is also the second choice for 49% of Trump's supporters, making his "never attack The Donald" strategy one that is beginning to pay off. PPD's separate research over the last month has also definitely shown that Cruz is leading among caucus-goers that participated in the last two cycles. Chuck Laudner, Rick Santorum's former Iowa chief, is doing terrific job at bringing in new caucus-goers, but whether they actually show up is yet to be seen.
Cruz's campaign also got a big boost in the first-in-the-nation caucus last week when state's kingmaker threw his support behind him. Christian conservative Bob Vander Plaats, the head of The Family Leader that endorsed Santorum in 2012 and Gov. Mike Huckabee in 2008, both caucus winners, opted instead for Cruz this cycle.
"Our goal is to unite conservatives around Ted Cruz," Vander Plaats said Thursday. "We believe he'll be the nominee to take on and defeat Hillary Clinton."
Second, with the polls, ground game and timing on his side–at least in the Hawkeye State–he still has plenty of money in the coffers. Because the media has largely ignored his otherwise very news-worthy campaign, you might not know the Texas senator is number two in the money race, second only to the former Florida governor.
Jeb Bush and his super PAC Right to Rise have raised oodles and oodles more than any other candidate, but they have what is quickly becoming an unsustainable burn rate. Not only has Cruz hauled in roughly $65 million, unlike Bush, there is a balance between his campaign and supporting super PAC.
Ultimately, Cruz has made the most important argument any candidate can make, which is a basic justification for running for president. He and his soon-to-be rival Donald Trump both have made the case, and GOP primary voters believe Cruz is a principled, unwavering conservative that does something the others don't–keep his campaign promises. Most of the other candidates–such as Bush, Gov. John Kasich and two former Iowa caucus winners–have not put forward a basic justification to the voters and they are quickly running out of time to do so.
Final Caveat and Bottom Line
If, however, Trump wins the Iowa caucus, then it's all over. The caucus electorate, according to our estimates, will be more than 55% white evangelical, which makes even second place for Trump a very strong showing heading into the New Hampshire primary, where he leads by over 15%.