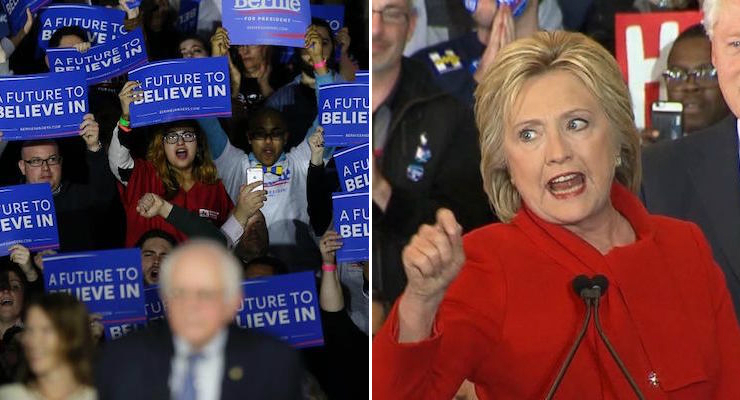 Vermont socialist Sen. Bernie Sanders has closed the gap with Hillary Clinton nationwide, according to the latest poll from Quinnipiac University. Secretary Clinton is polling at 44%, with Sen. Sanders at 42% and 11% undecided. This compares to a 61% to 30% Clinton lead in the December 22 Q-Poll.
"Democrats nationwide are feeling the Bern as Sen. Bernie Sanders closes a 31-point gap to tie Secretary Hillary Clinton," said Tim Malloy, assistant director of the Quinnipiac University Poll. "And despite the Iowa setback, Donald Trump is way ahead of his GOP opponents."
Sanders has a 44% to 35% favorability rating among American voters juxtaposed to 39% to 56% for Clinton. Meanwhile, former New York Mayor Michael Bloomberg is flirting with the idea of an independent run, something he has weighed for year.
"Although he is characterized as the New York counterpunch to Trump,"Malloy added, "Mayor Mike Bloomberg is more the nemesis of Bernie than he is of Donald."
The survey results are being disputed by the Clinton campaign, which has consistently made the case that the socialist senator is not electable in a general election. However, Sanders is running stronger against the top GOP contenders than Clinton, though PPD's senior political analyst sides with the former secretary of state.
"The country doesn't know that Sen. Sanders is a socialist and is not really paying very much attention at this point in the cycle," said Richard Baris, the People's Pundit and head of the PPD Election Projection Model. "Even though the numbers have shifted dramatically over the last five years, a majority of American voters have consistently reported they would never vote for a socialist."
Clinton still holds a 13.3% lead over Sanders in the PPD Democratic President Nomination Average of polls. While an apparent outlier, the Q-Poll has a B+ Grade on the PPD Pollster Scorecard.
From February 2 – 4, Quinnipiac University surveyed 1,125 registered voters nationwide with a margin of error of +/- 2.9 percentage points. Live interviewers call land lines and cell phones. The survey includes 507 Republicans with a margin of error of +/- 4.4 percentage points and 484 Democrats with a margin of error of +/- 4.5 percentage points