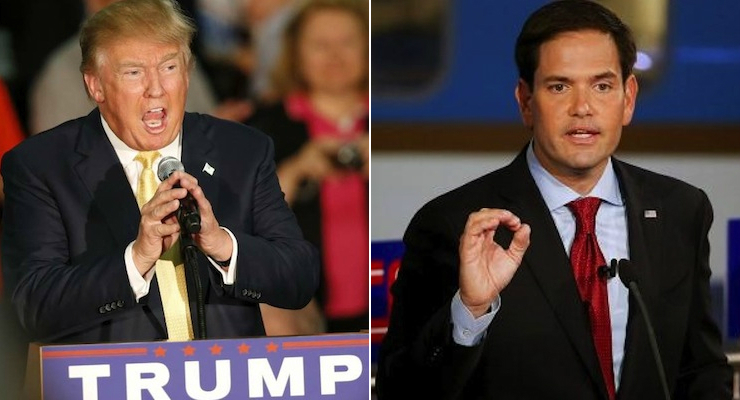 While Donald Trump maintains his big double-digit lead, Florida Sen. Marco Rubio has overtaken Texas Sen. Ted Cruz in the latest New Hampshire Republican primary tracking poll. Cruz has essentially remained flat at 14%, despite his win in the Iowa caucus, but Rubio has siphoned off 7 points to hit 15%, up from 8% when tracking began.
Former Florida Gov. Jeb Bush is in fourth place with 8%; Ohio Gov. John Kasich at 7%; and, New Jersey Gov. Chris Christie is drawing 5%.
"Marco Rubio's problem is that he is exclusively pulling support from the governors," said PPD's senior political analyst Richard Baris. "All of his bump post-Iowa has come from that establishment lane. Trump's supporters, and to a lesser extend Cruz's supporters, are dug in."
The billionaire real estate mogul leads in the PPD average of New Hampshire Republican primary polls by 23.4%, with Kasich at 11.9% and Rubio at 11.5% and rising. Cruz is holding steady with 11%. The consistency of Cruz's support is reflective in the electorate.
"The best Cruz can hope for in New Hampshire is an electorate that touches 20% evangelical, maybe slightly more," Baris said. "The independents are excited about the GOP side of the race and are disproportionately expected to participate there, not in the Democratic race. That is working to the benefit of Trump."
Trump draws 38% of likely independent voters and 35% of likely Republican voters in the Granite State. No one else is even close.
Worth noting, Trump's supporters are more likely to say their minds are made up–and by a statistically significant margin–which limits his downside potential barring a complete implosion. Only a quarter of his supporters say they are not decided, while Cruz's level has ranged from 35% to 42%. With the temporary exception of Gov. Kasich, who was displaying fairly firm support in the first three days of tracking, the rest of the GOP field's support is very soft.
But Kasich's supporters are now beginning to show signs of weakening, as well. Forty-three percent (43%) of Kasich voters are now indicating they could change their mind. The rest of the competitors in the field see roughly half of their supporters willing to pull the lever for someone else on Tuesday.
Data collection by live interviewers from Abt SRBI, Inc. This is a probability sample of 1410 New Hampshire Registered Voters (RVs) collected using an overlapping dual-frame random digit dial design with a 50% landline/50% cell phone target split (actual split of RVs is 53% LL/47% cell). Using the model detailed below, the survey classified 487 RVs as Republican Likely Voters (LVs).
Likely voters are defined as those who are following news of the election "very closely" or "somewhat closely" (Q3=1,2), "always" or "almost always" vote when there's an election (Q4=1,2), and say that they "definitely will vote," or have "already voted" in the election (Q5=5,6). Voters who have just registered (Q4=6) are also defined as likely voters if they "definitely will vote," or have "already voted" in the election (Q5=5,6) and are following news of the election "very closely" (Q3=1). Independent registrants who don't know or refuse to state which ballot they will take are also screened out. Out of 1410 RVs, 487 are defined as Republican Likely Voters.