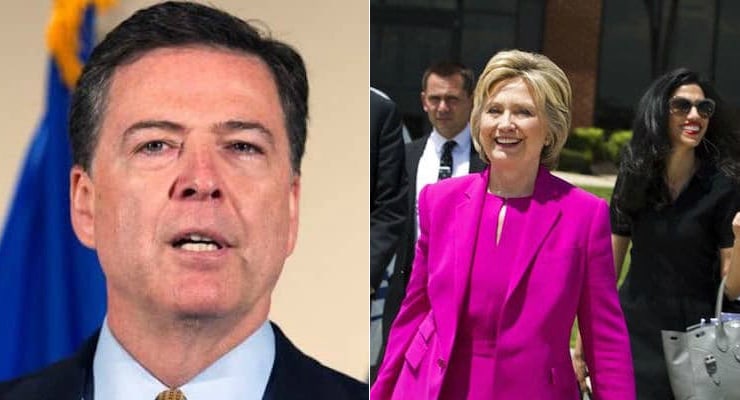 A new poll finds a majority of voters disagree with FBI Director James Comey's decision not to seek a criminal indictment against Hillary Clinton. A Rasmussen Reports survey shows only 37% of likely voters agree with the FBI's decision, while 54% disagree and believe the FBI should have sought a criminal indictment of Clinton. Only 10% said they were undecided.
Worth noting, the American voter predicted FBI would decide not to indict months ago, with 65% thinking Mrs. Clinton broke the law by sending and receiving e-mails containing classified information through a private e-mail server while serving as secretary of State. Yet, in a demonstration of just how little faith they have in the system, just 25% said in January that it was even somewhat likely she would be charged with a felony.
Not surprisingly, 64% of Democrats agree with Director Comey's decision not to seek an indictment and 79% of Republicans, 63% of voters not affiliated with either major political party disagreed. Just 25% of Democrats disagree with the decision.
A sad 81% of all voters believe powerful people get preferential treatment when they break the law, while only 10% disagree. Among those who think powerful people get better treatment under the law, 63% disagree with the FBI's decision not to seek a criminal indictment of Clinton. Ninety percent (90%) of those who do not believe the powerful are treated differently agree with the FBI's action.
Sixty-two percent (62%) of voters have a favorable opinion of the Federal Bureau of Investigation, but that includes only 16% with a Very Favorable one. Twenty-eight percent (28%) share a favorable view of the federal agency, with 11% who see it Very Favorably. Eighty-two percent (82%) of voters who agree with the Clinton decision have a favorable opinion of the FBI, compared to just 49% of those who disagree.
The survey of 1,000 Likely Voters was conducted on July 5, 2016 by Rasmussen Reports. The margin of sampling error is +/- 3 percentage points with a 95% level of confidence.