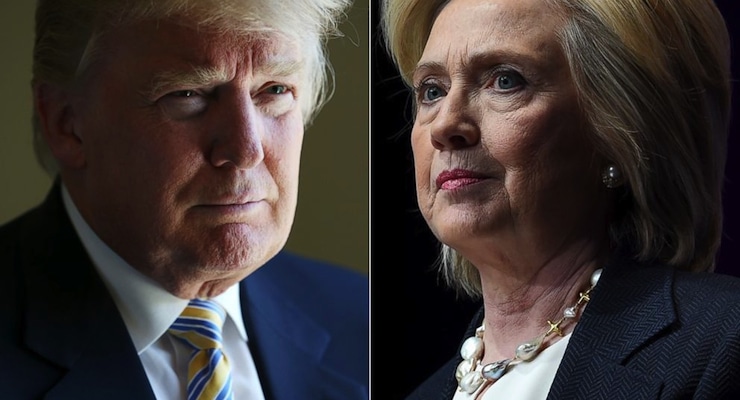 Republican Donald Trump leads Democrat Hillary Clinton nationally 43% to 41% and in all four battleground states surveyed, a new [content_tooltip id="38226″ title="Emerson College Polling University"] finds. Nationally, Mrs. Clinton, the former secretary of state, leads only among 18-34 year old voters, 51% to 30%, while she loses to Mr. Trump in all other age groups by a range of 8 to 14 points.
Regionally, Trump's strongest support is in the South, where he is ahead of Clinton 49% to 37%, and the Midwest where his advantage is 42% to 38%. Clinton's strength is in the West, where she is ahead of him 49% to 38%, and in the Northeast, where she is up 45% to 36%. Trump has a slight edge among Independent voters nationally, with 41% to Clinton's 36%.
In the states polling, Mr. Trump leads Mrs. Clinton 42% to 38% in Colorado, 45% to 39% in Georgia and 47% to 34% in Missouri. In Arkansas, where Mrs. Clinton was the first lady and her husband the governor, Mr. Trump leads by a whopping 57% to 29%. The Republican leading in the battleground state of Colorado is particularly significant, as it is the only swing state where the share of the Hispanic vote is a greater percentage than the national average.
There has also been talk about Mrs. Clinton making a play for Georgia, which was also the case in 2012, but it would appear Peach State voters are warming up to Mr. Trump by a larger margin than Gov. Mitt Romney. Perhaps the most important finding in the survey isn't even the ballot question.
Compared to earlier Emerson Polls, voters' expectations about who will win the presidential race are shifting significantly. In previous surveys, a larger percentage of all voters expressed the belief that Mrs. Clinton will win the election compared to those who believe Mr. Trump will, which as PPD has repeatedly shown, is often more closely aligned with the eventual winner than the actual ballot question. The differential was as much as +19 in Ohio in late August, but now that gap is narrowing, with only 45% of the national electorate saying Mrs. Clinton will win in November, compared to 43% who say Trump will.
Read Full Results: ecps-final-press-release-and-national-toplines-for-us-and-4-state-polls
The Emerson College national poll was conducted September 11-13, under the supervision of Professor Spencer Kimball. The sample consisted of 800 likely general election voters, with a margin of error of +/- 3.4%. Data was weighted by 2012 election results, age, gender, political affiliation and region.
All four state polls were conducted from September 9-13 and consisted of 600 likely voters with a margin of error of +/-3.9%. Data was weighted by 2012 election results, age, gender, political affiliation and region.