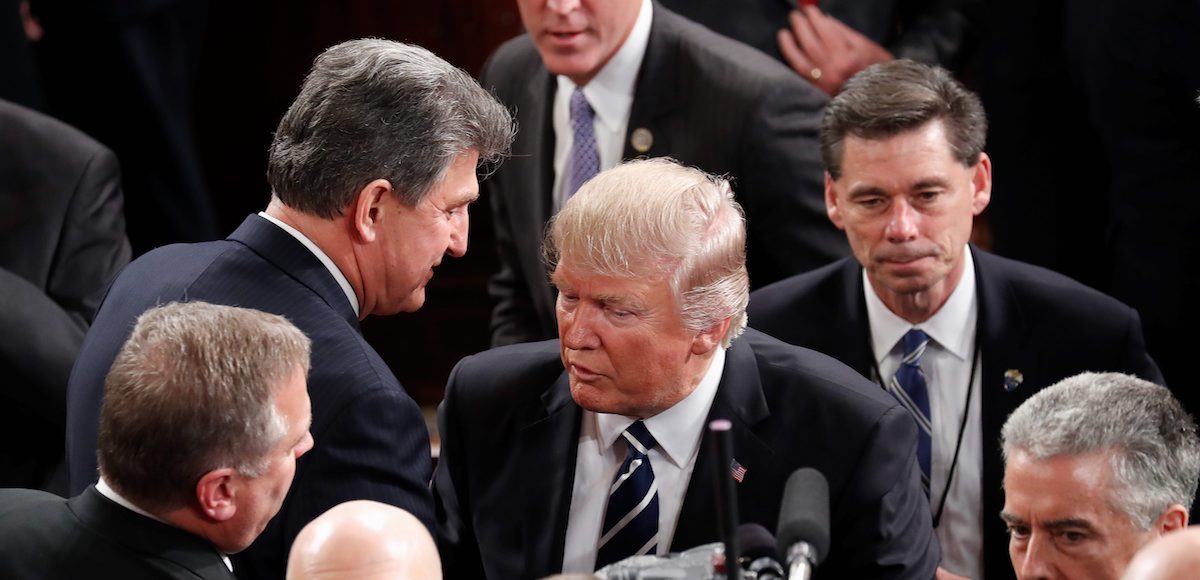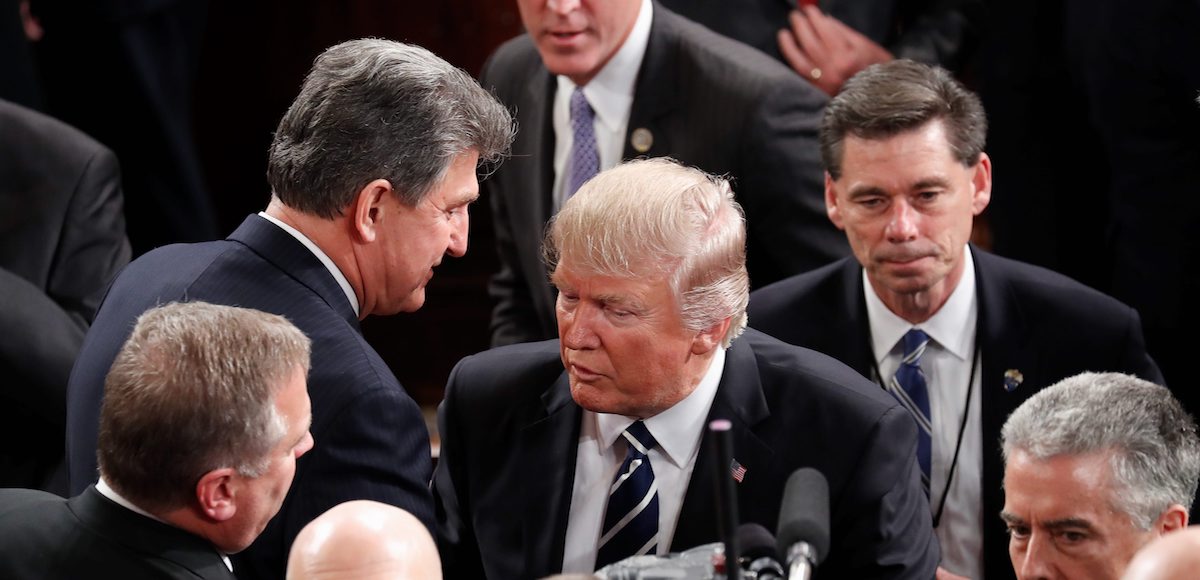 Democrats will defend no less than 10 U.S. Senate seats in states President Donald J. Trump won handily, including West Virginia. Incumbent Sen. Joe Manchin hasn't played the role of obstructionist, voting for the President's nominee to the Supreme Court and showing a willingness to work on key agenda items.
The latest People's Pundit Daily (PPD Poll) Big Data Poll in the state, which was conducted as part of the first ever Generic Senate Ballot (PPD Senate Battleground Poll), finds Sen. Manchin isn't as easy a target as the state's presidential vote preference would seem to indicate.
Sen. Manchin leads a generic Republican candidate by nearly 10 points, slightly topping the critical 50-percent threshold. In the early survey, the incumbent earned 50.3% to 40.7% for the GOP challenger.
President Trump trounced Hillary Clinton in the Mountain State 67.9% to 26.2%, making it a prime target in Republicans' plans to win a supermajority in the U.S. Senate.
"While his ratings nationwide have fallen, President Trump remains very popular in West Virginia," said Rich Baris, editor-in-chief and head of the PPD Poll. "But that's not impacting Sen. Manchin at this point because there is a significant percentage of the electorate which likes them both. These two men have significant crossover appeal in the state."
The lawmaker many describe as the last truly moderate Democrat in Washington runs very strong among self-identified Republicans and voters who describe themselves as conservative. Twenty-three (23%) of Republicans and 34% of conservatives approve of the job Sen. Manchin is doing. A similiar percentage, 18% and 24%, respectively, say they will vote for him.
Fifty-seven percent (57%) approve of the job their senator is doing statewide, while just 39% disapprove. Those numbers are rivaled only by President Trump, who enjoys a 62% approval rating in the state juxtaposed to just 31% who disapprove.
"Republicans in Congress aren't giving the loyal or crossover Trump voter much of a reason to back the party's candidate," Mr. Baris added. "If the National Republican Senatorial Committee is counting on Trump supporters voting straight Republican based on party loyalty, they are going to get bludgeoned come Election Day."
Still, it's not all good news for Sen. Manchin and bad news for the Republican Party. Polling this early has questionable predictive value–we are more interested in trends–and Mr. Baris said it would also be accurate to describe his lead as being somewhat soft.
"This race will be decided by white female voters," he added. "They are far more likely than men to say they could change their mind and also represent the largest share of the Trump crossover vote. If the eventual Republican nominee in the state is in the populous image of the President and acceptable to women, Sen. Manchin's lead could very well evaporate."
While 66% of men in West Virginia approve of the job the President is doing, only 52% approve of Sen. Manchin. Fifty-eight percent (58%) of women approve of President Trump, while only slightly more (62%) approve of the job Sen. Manchin is doing.
The People's Pundit Daily (PPD Poll) Big Data Poll was recently featured in The Washington Times for conducting the most accurate state-level polling in 2016.
[wpdatatable id=95]
The PPD Poll follows level 1 AAPOR standards of disclosure and WAPOR/ESOMAR code of conduct. All publicly released surveys are subscriber– and individual reader donations-funded, not sponsored by any other media outlet, partisan or political entity.
The 2018 West Virginia Senate Poll was conducted from June 8 to June 14 and is based on 901 interviews of likely voters participating in the PPD Internet Polling Panel. The Mountain State Battleground Poll, a subsample of the PPD Battleground Senate Poll, or the Generic Senate Ballot, was collected in a separate statewide sample.
The PPD Poll has a 95% confidence interval and is not weighted based on party affiliation (party ID), but rather demographics from the U.S. Census Current Population Survey–i.e. age, gender, race, education and region etc. Partisan affiliation is derived from a proprietary likely voter model and demographic weighting, not the other way around.
The sample identified a D/R/I partisan split of 41% Republican, 36% Democrat, and 28% Independent/Other. Read more about methodology here.