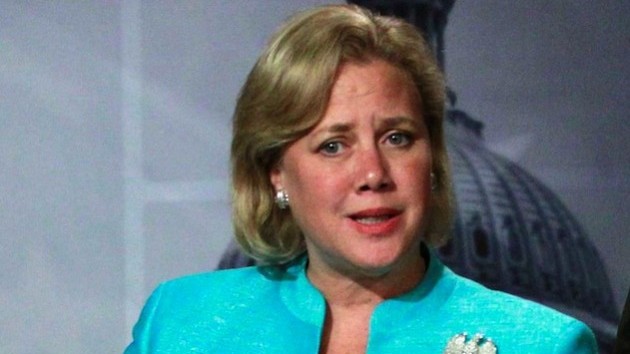 A recently published video showing Democrat Mayor of Opelousas Don Cravins Sr. endorsing mass Louisiana voter fraud on November 3, 2014, is more trouble for Mary Landrieu. Cravins' son is none other than Sen. Landrieu's chief of staff.
"If you early voted, go vote again tomorrow. One more time's not going to hurt," Cravins said. "Tomorrow we're gonna elect Earl Taylor as the D.A. so he won't prosecute you if you vote twice."
Cravin's remarks were met with laughter and cheers from the crowd, and one woman's voice can be heard in the video responding that she would vote twice. Sadly, Taylor won a fourth term on Nov. 4.
Louisiana State Senator Elbert Guillory, a black Democrat-turned-Republican, narrates the video and walks viewers through one of his now-common themes. Mr. Guillory, the star of the video released by Black Conservatives Fund, which launched the new website onlyvoteonce.com, has been reaching out to black voters with a simple message.
"You are not Mary's cause and you are certainly not her charity. You are just a vote – nothing less, nothing more," Guillory said in a previous ad named the Best Political Ad Of 2014 by PPD. "You are just a means to an end."
The straightforward, devastating video has been viewed more than 400,000 times on YouTube.
The Cravins are central figures in the Louisiana State Democratic Party elite, whom Guillory says have been reduced to voter fraud because their policies haven't helped African-Americans, or any Americans. Despite the now public video, Landrieu refused to respond to a request for a comment.
The video comes just a few short days before Landrieu faces the political challenge of her career from Republican Representative Bill Cassidy. The vulnerable Democratic incumbent was forced into a runoff after Cassidy and one other Republican challenger — tea party-backed U.S. Air Force veteran Rob Maness — reduced Landrieu to just 42 percent of the vote.
However, with Cassidy pulling a close 41 percent and Maness earning 14 percent, PPD's election projection model gives Landrieu just a 19 percent chance of survival. Maness has thrown his full support behind Cassidy and Landrieu earned just 18 percent of the white vote, according to exit polls.
Recent polling shows the race is headed for a blowout, which is likely why the DSCC said just a week after the midterm elections that they would be pulling out of the race.