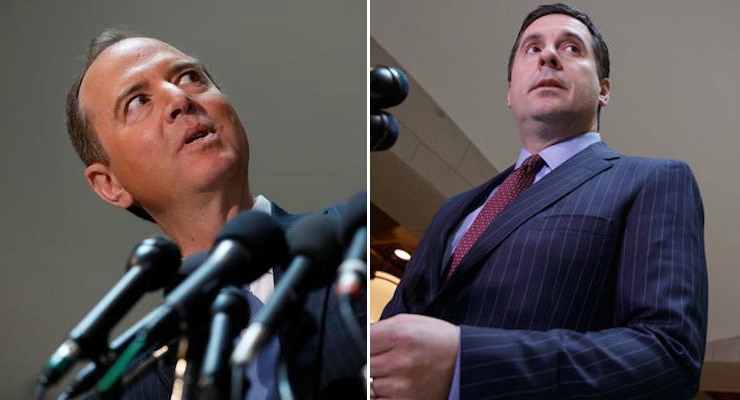 Ranking Member of the House Intelligence Committee Rep. Adam Schiff, D-Calif., has called into question the character of Chairman Devin Nunes, R-Calif., for alerting the President to information he received confirming the "incidental collection" of intelligence on members of the Trump transition team under the Obama Administration.
"I recently confirmed on numerous occasions the intelligence community incidentally collected intelligence," Chairman Nunes told reporters at a press conference, adding he was "alarmed" and didn't understand "why people would need to know that about President-elect Trump and his transition team."
He told House Speaker Paul Ryan, R-Wis., before making the short journey to the White House later in the afternoon. Now, congressional investigators expect a potential "smoking gun" proving the Obama Administration spied on the Trump transition team and "possibly" the president-elect, himself.
Further evidence will be produced to the House Intelligence Committee in its entirety that will "leave no doubt the Obama Administration, in its closing days, was using the cover of legitimate surveillance on foreign targets to spy on President-elect Trump."
His colleague, Mr. Schiff, to whom he always extends professional courtesy, said his decision to do so without telling Democratic committee members and putting his sources in jeopardy disqualifies him from leading the investigation.
"The chairman will need to decide whether he is the chairman of an independent investigation into conduct which includes allegations of potential coordination between the Trump campaign and the Russians, or he is going to act as a surrogate of the White House, because he cannot do both," Rep. Schiff told reporters at a press conference later in the afternoon.
The statement was followed up by calls from other predominant Democrats, including House Minority Leader Nancy Pelosi, D-Calif., who called Chairman Nunes a "stooge."
Nothing could be further from reality and the truth.
The role of the House Intelligence Committee is to provide oversight of the intelligence community. They are the only public check the people have on what is clearly becoming a outrageously political deep state that has accumulated an even more outrageous amount of power and surveillance capabilities.
The role of the House Intelligence Committee is not to investigate whether members of the Trump campaign "colluded" with Russia during the election, nor does it even have the proper capabilities to conduct such an investigation.
That is the job of the Federal Bureau of Investigation , which FBI Director James Comey confirmed is already underway. The only motive Democratic committee members could have for conducting a probe into potential collusion, which all evidence indicates did not occur, is purely political. Mr. Schiff wants to holding public hearings on collusion because he's on a mission to damage the Trump Administration politically, not because he's on a truth-seeking mission.
Despite his feigning outrage over claims the former president's administration abused the power of the intelligence community, the ranking Democrat knows damn well Barack Obama has done it before. Mr. Nunes and Mr. Schiff worked together on reforms to make it more difficult for repeat abuses of surveillance power after Mr. Obama spied on Israeli Prime Minister Benjamin Netanyahu. Citizens in pro-Israeli political groups also had "incidental collection" of intelligence collected on them.
Mr. Schiff is a man who once accused the warrior survivors of the Benghazi terror attacks of lying to sell books.
The classless, spineless comment came right after Kris Paronto, Mark Geist and John Tiegen–three contractors who fought off terrorists from the roof of the CIA annex building in Benghazi–confirmed that there was indeed a stand-down order given that caused a half-hour delay, which in-country witnesses say cost the lives of Ambassador Chris Stevens and three other Americans.
Schiff, who was not in Benghazi that night, said Mr. Paronto, Mr. Geist and Mr. Tiegen made up a story that disproves what is now a proven lie; the Benghazi attack was caused by an inflammatory YouTube video, which was pushed by then-Secretary of State Hillary Clinton and Mr. Obama.
It is Rep. Schiff, not Chairman Nunes, who is the stooge and this is not the first time he has willingly and eagerly jumped into that role.