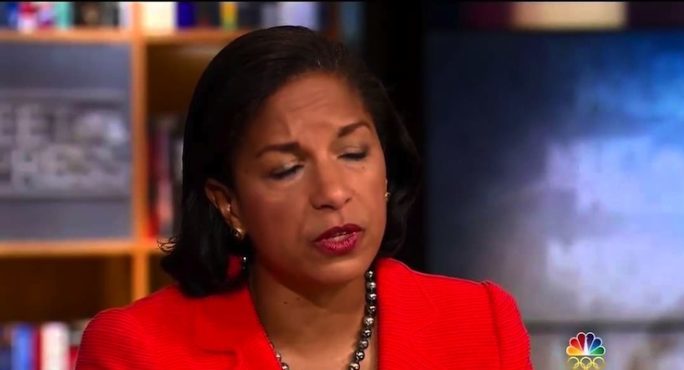 Susan Rice has now flip-flopped on whether she "unmasked" the identities of Trump transition members who were spied on by the Obama Administration.
"I know nothing about this," Rice said just a few weeks ago after the head of the House Intelligence Committee confirmed "incidental collection" of intelligence did occur. "I was surprised to see reports by Chairman Nunes on this account today. I'm not sure to what Chairman Nunes was referring."
[brid video="129837″ player="2077″ title="Susan Rice The world wonders and worries if the White House can be trusted"]
Now, after numerous outlets to include People's Pundit Daily confirmed that to be a false statement, the former national security advisor under Barack Obama told a friendly news outlet another story, altogether. In an interview with MSNBC, Rice went from "knowing nothing" to unmasking just being part of the job.
"We only do it to protect the American people and to do our jobs." Rice said, adding Obama officials never used intelligence to spy on Trump officials for political purposes. "I leaked nothing to nobody and never have and never would."
[brid video="129838″ player="2077″ title="Susan Rice ' Leaked Nothing To Nobody' About Intelligence (Exclusive) Andrea Mitchell MSNBC"]
First, a denial in an exclusive interview with Andrea Mitchell, a known Democratic Party hack and Clinton sycophant, is simply not good enough. On election night in Philadelphia, Mitchell looked like someone killed her dog after it became clear Hillary Clinton was going to lose in an electoral vote landslide.
Second, let us be as clear as possible. Susan Rice is a proven liar who doesn't deserve the benefit of the doubt, ever, on anything. Rice is infamous for her role in what we now know was a coverup before the 2012 election. The then-U.N. ambassador appeared on no less than five Sunday shows and knowingly lied about the Benghazi terror attack, without shame or regret.
On September 14, 2012, an email from Ben Rhodes, who was the deputy national security adviser for strategic communications and assistant to Mr. Obama, contained a subject line: "RE: PREP Call with Susan: Saturday at 4:00 pm ET."
It was sent to a dozen members of the Obama administration's inner circle, including Press Secretary Jay Carney. Deputy Press Secretary Joshua Earnest, then-White House Communications Director Dan Pfeiffer, then-White House Deputy Communications Director Jennifer Palmieri, then-National Security Council Director of Communications Erin Pelton, Special Assistant to the Press Secretary Howli Ledbetter and then-White House Senior Advisor and political strategist David Plouffe.
In the email, Rhodes says the game plan was to stress the anti-Islam Internet video and to obfuscate the differences between the Benghazi attack and what were widespread protests across the Middle East, which were directly related to foreign policy failures following the botched Arab Spring.
The email specifically lists the following two goals, as well as several others:
"To underscore that these protests are rooted in an Internet video, and not a broader failure of policy."
"To reinforce the President and Administration's strength and steadiness in dealing with difficult challenges."
The rest is now a disgraceful history. The former head of AFRICOM, General Carter Ham, told the House Armed Services Committee later that January that the White House situation room was alerted immediately after the attack. Emails confirmed the general's account and the House Select Committee on Benghazi would later discover another "smoking gun."
For her loyalty and willingness to engage in a coverup before a heated presidential election, she was promoted to national security advisor. This is exactly why Americans hate Washington D.C., have no confidence in their government and believe wholeheartedly that the political class lives by a different set of rules than they do.
Americans, the intelligence community and the new administration deserve to know the truth about why Rice unmasked the identities of U.S. citizens in surveillance potentially collected to her political opposition. A proven liar like Susan Rice doesn't deserve the benefit of the doubt in what could very well be the worst abuse of political power we've witnessed in our lifetime.