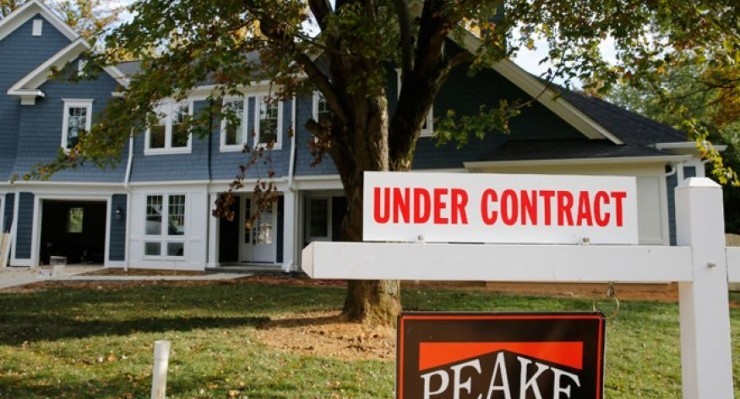 The National Association of Realtors (NAR) reported on Monday existing home sales in the U.S. cratered in February, led by declines in the Northeast and Midwest. In what is a concerning sign for the housing market and the American economy, the NAR) said existing home sales "fizzled" by declining 7.1% to an annual rate of 5.08 million units.
Economists polled by Reuters had forecast home U.S. resales falling by 2.8% to a pace of 5.32 million units last month. After increasing to the highest annual rate in six months, existing home sales are now at the lowest level since November.
"Sales took a considerable step back in most of the country last month, and especially in the Northeast and Midwest," said Lawrence Yun, chief economist at NAR. "The lull in contract signings in January from the large East Coast blizzard, along with the slump in the stock market, may have played a role in February's lack of closings. However, the main issue continues to be a supply and affordability problem. Finding the right property at an affordable price is burdening many potential buyers."
Sales have been volatile in recent months due to the introduction in October of new mortgage regulations, which the housing lobby say aim to help homebuyers understand their options and shop around for loans that are best suited to meet their particular financial circumstances.
However, according to the National Mortgage Risk Index, which measures how government-guaranteed loans with a first payment date in a given month would perform if subjected to the same stress as in the financial crisis that began in 2007, has increased year-over-year in every month since January 2014. Now, with the release of the report, NMRI Analysts say this is not only unnecessary but irresponsible given the current trends.
"The data continue to show that first-time buyers have plentiful access to credit," said Stephen Oliner, codirector of AEI's International Center on Housing Risk and senior fellow at UCLA's Ziman Center for Real Estate. "Assertions to the contrary are simply ignoring the facts."
Existing home sales fell across all regions of the country in February, including a 17.1% plunge in the Northeast and 13.8% in the Midwest to an annual rate of 1.12 million in February–unchanged from February 2015. Existing-home sales in the South fell 1.8% to an annual rate of 2.20 million in February, up 3.3% from February 2015. The median price in the South was $186,400, up 5.0% from a year ago.
Resales in the West fell 3.4% to an annual rate of 1.13 million in February, up only 0.9% from the prior year. The median price in the West was $308,800, which is 7.0% above February 2015.
Overall, median price for a previously owned home increased 4.4% to $210,800 from a year ago. In February, the number of unsold homes on the market increased by 3.3% from January to 1.88 million units, but fell 1.1% from a year ago. At February's current sales pace, it would take 4.4 months to clear the stock of houses on the market, up from 4.0 months in January.
A six-month supply is viewed as a healthy balance between supply and demand.
"Investor sales have trended surprisingly higher in recent months after falling to as low as 12% of sales in August 2015," adds Yun. "Now that there are fewer distressed homes available, it appears there's been a shift towards investors purchasing lower-priced homes and turning them into rentals. Already facing affordability issues, this competition at the entry-level market only adds to the roadblocks slowing first-time buyers."