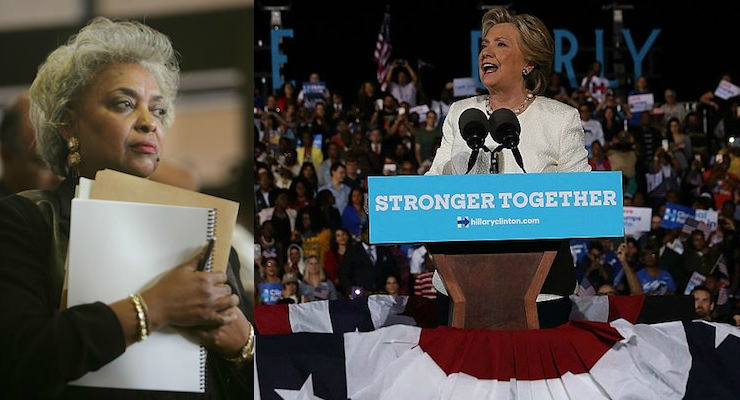 According to multiple sources and witnesses, Broward County Supervisor of Elections Brenda Snipes and employees are engaging in mass voter fraud in multiple forms. While People's Pundit Daily has uncovered instances of election fraud in other counties around the state–including Pasco and Lee–Broward is large enough that it could potentially swing the state.
It has been widely reported that black turnout in the state–and in other battleground states such as North Carolina and Ohio–is way down from 2012 levels. In the past few days, the Clinton campaign and their Democratic surrogates have been touting "a surge" in turnout among black voters in Broward County, which is overseen by Snipes.
But according to our multiple sources, there has been no real improvement in enthusiasm on the ground, but rather bold voter fraud schemes carried out by employees at the Supervisor of Elections. The election fraud scheme is mutli-pronged and includes destroying ballots selectively and what is traditionally known as ballot-stuffing, or filling in absentee ballots.
"There is no authentic surge," a source at the Broward County Supervisor of Elections told People's Pundit Daily. "They've been at this [filling out absentee ballots] for days, working 4 to 5 employees some 16 hours a day each. There's no telling how many ballots we are talking about. As many as they can each write in 16 hours a piece."
A review of the early and absentee voting statistics in the state–which People's Pundit Daily does on a daily basis–does reveal a suspicous increase in Democratic returns juxtaposed to the rest of the state, which has not experienced the same turnout increase. If enthusiasm and turnout for Mrs. Clinton was organic and legitimate, then we would expect to see those gains in similiar percentages in regions of the state expected to back the Democrat.
But that's not the case.
Sources confirm Snipes was breaking the law and opened more than 153,000 ballots cast by mail in private, claiming employees were tearing up and disposing of those that were votes in support of Donald J. Trump. The law prohibits the opening of ballots without the supervision of a canvassing board appointed to oversee and certify elections precisely because of this possibility.
The Republican Party of Florida earlier in the week caught wind of this and accused Broward County election officials of voter fraud when they received a letter Wednesday afternoon from Republican state party chairman Blaise Ingoglia.
"These illegal actions must stop immediately," he wrote. "The Republican Party of Florida is prepared to take all necessary legal actions to ensure that Broward County conducts its election in compliance with the law."
Within hours of receiving Ingoglia's letter, a judge on Broward's canvassing board offered a two-step compromise that ended the charge by Republicans. But Snipes admitted no wrongdoing and, until now, was able to maintain the story that the employees didn't open the ballots.
"The canvassing board has never opened the ballots," Snipes said. "We have procedures we follow that are approved in our security manual sent to state. We don't feel like we are doing anything illegal — this is the process we have always used."
But it was only because David Shestokas, a Florida Bar-certified attorney, was sent by the Republican National Lawyers Association from Chicago to watch the election in Broward that these activities were made known.
Yet another allegation involves Voter Services and Registration Director Mary Hall, one of four employees a volunteer identified in a signed affidavit. The volunteer confirms the allegations made by a source claiming Hall and others were locked in a room filling in scores of absentee ballots for Mrs. Clinton and other Democratic candidates.
The volunteer, who was terminated ubruptly after witnessing the mass voter fraud operation in what employees called "The Pitney Bowes Room," stated in their affidavit that they clearly saw these four individuals filling in "stacks" of ballots with the same pen given by the Supervisor of Elections to voters.
"Once in the room, I could see the four SEO employees sitting at the same table actively filling out election ballots," the affidavit reads. "Each had a stack of blank ballots to the right of them (about an inch high) and a stack of completed ballots to their left… I could see that the bubbles on the right stack had not been filled in, while the bubbles on the left stack had been blackened in."
"I could see that the SEO employees were using the same black pens (white body with a black cap) that the SOE supplies to voters at the polling sites. I was then told to leave the room by one of the employees."
When the volunteer returned the next day, they were met by uniformed security guards and told they had been terminated.
The Trump campaign is allegely preparing a lawsuit against Snipes.