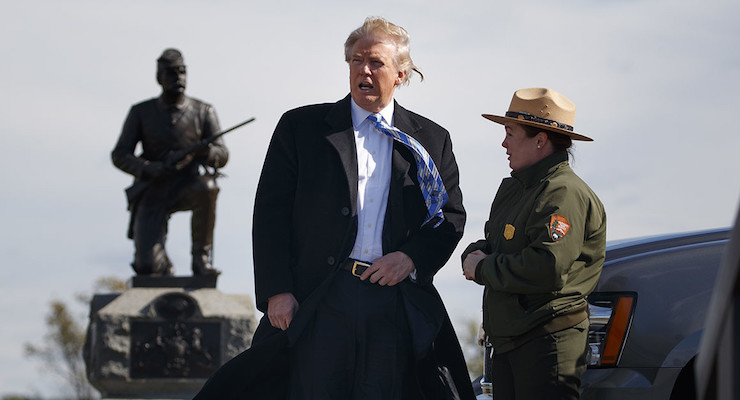 Surging in the national and state polls in the final week, the Trump campaign went on offense and announced a $25 million ad buy in Democratic leaning states. The ad buy includes Pennsylvania, Michigan and New Mexico, where the campaign's internal polls and PPD Battleground State Polls show the race is tightening.
"We have closed this gap dramatically over the last week," Deputy campaign manager David Bossie said.
Michigan and Pennsylvania haven't gone for a Republican since 1988 and New Mexico has only voted Republican once since that same year. But Republicans are encouraged by Mr. Trump leading in the early vote in Michigan and a deep distrust for Hillary Clinton in the Rust Belt. The campaign believes the Republican nominee's working class message on trade–particularly in light of leaked transcripts showing his Democratic rival holds one position on the issue in public and another in private–will boost his support among traditionally Democratic voters.
The campaign sent out a release saying that the significant ad buy comes as "an open acknowledgment that the campaign is surging in traditionally blue states as well as traditional battleground states."
"The data clearly shows that Mr. Trump's message is reaching voters and we are expanding the map. This addition to our already aggressive paid media outreach illustrates Mr. Trump's commitment to reaching out to all voters in must-win states before Election Day," said Brad Parscale, Digital Director for the Trump campaign. "By increasing our presence in battleground states and expanding into new markets, Mr. Trump is well-positioned for an impressive victory on Nov. 8th."
The ads will also run in Colorado, Florida, Iowa, Maine, North Carolina, Ohio, Wisconsin, Virginia, Nevada and New Hampshire as well. The latest SurveyUSA Poll in North Carolina shows Mr. Trump surging to a 7-point lead, while PPD's Tarheel Battleground State Poll shows a 3-point lead.
Also on Friday, Mr. Trump gave $10 million of his money to his campaign, bringing that his personal spending total to $18.6 million contributed and $47.5 million in loans.
The ad buy also came after the ABC News/Washington Post tracking poll shows Mr. Trump earning 46% support nationally to Mrs. Clinton's 45%, which represented a 13-point shift in roughly a week. The poll is tied as of Wednesday, but Mr. Trump has retaken a slight lead in the TIPP/IBD Presidential Tracking Poll, a 2-point lead in the PPD U.S. Presidential Daily Tracking Poll and a 6-point lead in the USC Dornsife / LA Times Presidential Election Poll.