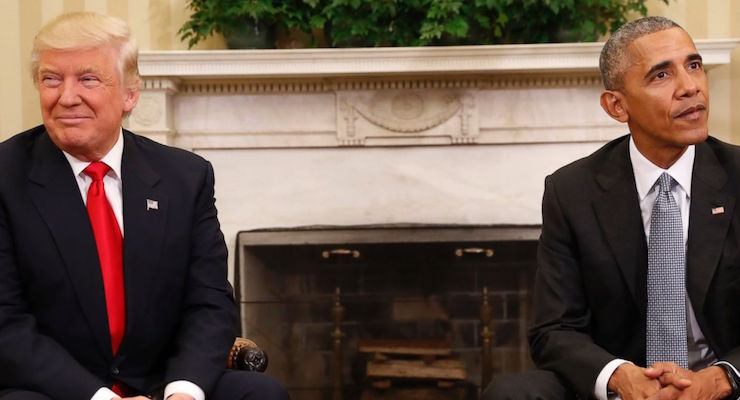 With Election 2016 giving up scores of data to pour over, we can already make a few very significant conclusions. Nearly all of them bode badly for the Democratic Party in the era of Barack Obama, while Republicans now enjoy their strongest electoral position in nearly 100 years under President-elect Donald J. Trump.
In part one of what will be a multipart series on the impact and significance of the 2016 presidential election cycle, we are going to look at the Democratic Party's losses and why they occurred. In subsequent articles, we will examine the potential future impact these losses could have on the party, as well as the the forces at play responsible for them.
The Numbers
Let's take a look at some of the raw results on the surface and then dig in a little deeper.
From 2008 to 2016, the Democratic Party has lost a net 9 seats in the U.S. Senate, 63 in the U.S. House of Representatives, 13 governorships, 949 state legislative seats and full control of 29 state legislatures.
Going into an election pundits proclaimed they were certain to win from top to bottom, they held full control in only 7 states. Now, they only hold only 5–California, Delaware, Oregon, Hawaii and Rhode Island–after the GOP tied it all up in the Connecticut state Senate.
| President | Senate | House | Governorships | State Leg. Seats | State Leg. Control |
| --- | --- | --- | --- | --- | --- |
| Obama (D) | -9 | -63 | -13 | -949 | -29 |
| Eisenhower (R) | -12 | -48 | -14 | -843 | -21 |
| Nixon/Ford (R) | -5 | -49 | -19 | -800 | -31 |
| Clinton (D) | -7 | -45 | -11 | -525 | -18 |
As you can see from the table above, Democrats under President Obama underperformed their party's candidates during Bill Clinton's impeachment in the 1990s and their rival GOP candidates during and after the WaterGate scandal. This is significant considering everything we've heard about The Emerging Democratic Majority and demographic changes to the electorate.
Ironically, these losses in totality were actually blunted by having Mr. Obama at the top of the ticket in 2012. However, despite the Democratic Party gaining seats in 2012, it is clear now the Obama coalition is likely unique to the candidate, himself. Thus, they are likely to lose Senate seats in 2018.
Ticket-Splitting
The losses were exacerbated by what is at least a temporary end to split-ticket voting. Take the U.S. Senate for instance. Direct senatorial elections began following the adoption and ratification of the 17th Amendment in 1913. During that period, in only three elections–1920, 1924 and 1948–has the percentage of states voting for the same party on the presidential and senate levels reached 90% or more.
And never has it reached 100%, until 2016. In 1920, the percentage hit 97% before falling back to 91% in 1924 and 65% in 1928.
But on November 8, all 34 states voting on the Senate and White House are expected to have backed the same party's candidates. I say expected because the U.S. Senate race in Louisiana won't be decided until a runoff on December 10, due to the "Jungle Primary" rules.
Still, Republican state Treasurer John Kennedy is clearly the frontrunner and is expected to win.
Ticket-splitting in recent elections has generally favored Democrats, including Sens. Heidi Heitkamp in North Dakota, Joe Donnelly in Indiana and Claire McCaskill in Missouri. In 2012, their states backed Mitt Romney over Mr. Obama but voted for the Democratic candidates.
The reason ticket-splitting has favored Democrats is that there are simply more Red States than Blue States, though they are less populous. The straight-ticket vote helped vulnerable incumbent senators get across the finish line, i.e. Pat Toomey in Pennsylvania and Ron Johnson in Wisconsin.
That said, given the trend, we believe all of the aforementioned incumbent Democratic senators are extremely vulnerable in 2018. Since 1988, when it was less than 50%, straight-ticket voting has been on the rise and averaged 80% in the prior three elections. In only one period–from 1996 to 2000–did the percentage remain unchanged (flat).
The reason for this is a great place to pick up in the next column.