In part one of what is a multipart series on the impact and significance of the 2016 presidential election cycle, we briefly looked at the Democratic Party's losses under President Barack Obama. In subsequent articles, we will continue to examine the potential future impact these losses could have on the party, as well as the forces at play responsible for them.
In this second edition, we will look at the changing electoral map and why it favors the Republican Party under President-elect Donald J. Trump.
I have repeatedly argued–in more columns than I can count–that political coalitions, like economic policy changes and impacts, do not occur in a vacuum and are ever-changing. Yes, it's true that Democrats were poised to benefit from the demographic shifts in the country. But that was only if they could hold on to at least a substantial percentage of their traditional working-class white base in certain regions.
They did not, and as I predicted they would two years ago in Putting the Hispanic Vote Myth to Bed, Once and For All, they lost.
This political shift has been underway for several cycles, as is evident by their slide among voters in the Appalachia region. But it obviously was exacerbated by the candidacy of a "working class billionaire" who added a substantial Rust Belt appeal to the mix. We'll take a look at these two regions and draw the following conclusion.
If he delivers in his first-term, a President Trump could do severe longterm damage to the electoral viability of the Democratic Party. While none of this is set in stone and greatly depends on Mr. Trump himself, the following analysis could prove particularly true if the party continues to move far to the left of mainstream American voters.
Judging by their top pick for chairman of the Democratic National Committee (DNC), it would appear that part of the equation is already coming to fruition.
Rep. Keith Ellison, D-Minn.–a controversial Muslim lawmaker with extremist ties to the Nation of Islam, the Muslim American Society and the Council on American-Islamic Relations (CAIR)–has been backed by Sen. Bernie Sanders, the outgoing minority leader Harry Reid and the incoming minority leader Chuck Schumer.
The Big Picture
The large and increasingly suspicious majorities in high population states such as California, Illinois and New York are responsible for Mrs. Clinton's popular vote lead. But they mask a devastating Electoral College vote defeat both beneath the surface and across the board. That is particularly true in the Rust Belt and the Midwest, as a whole.
During the primary, then-candidate Trump claimed he could compete in states other Republicans have not and could not. While only six states flipped from supporting the Democratic presidential candidate to the Republican, three of them were not traditional battlegrounds. Further, of the remaining three traditional battleground states that did flip–Florida, Ohio and Iowa–the latter was close and contested in only 1 of the prior 6 presidential elections.
Iowa
In 2004, heavy evangelical turnout literally gave George W. Bush a narrow 10,000-vote victory over John Kerry, 49.9% to 49.2%. In 2008, then-Sen. Obama hammered John McCain 54% to 44% and, in 2012, he easily carried the state against Mitt Romney 52% to 46%.
But in 2016, Mr. Trump demolished Mrs. Clinton in the Hawkeye State, 51.2% to 41.7%.
With the exception of Linn, Johnson and Scott, Mr. Trump flipped nearly all the eastern counties in the state. Counting Scott County, which went for Mr. Obama by roughly 14 points and Mrs. Clinton by only 1.5 points, a whopping 18 eastern counties flipped from backing Mr. Obama in 2012 to backing the next president.
In the southern part of the state, Union and Clarke counties, which backed Mr. Obama by roughly 4 and 1, respectively, backed Mr. Trump over Mrs. Clinton by a 2 to 1 margin.
That's a monumental shift, one which nearly every pollster save for PPD (and Trafalger Group) didn't seem to understand would be significant as it relates to other Rust Belt states in the Midwest, including Wisconsin, Michigan, Pennsylvania and even Minnesota.
Michigan
Most pundits, now largely discredited, are blaming low turnout for The Great Lakes State going Red for the first time since 1988. But dig a bit deeper and that explanation doesn't really suffice.
In Michigan, Mr. Trump carried 12 counties that voted to reelect Mr. Obama in 2012, including Monroe, Bay, Eaton, Saginaw and Macomb. In Macomb County, voter turnout actually increased 4% juxtaposed to the 1.1% increase statewide from 4 years ago.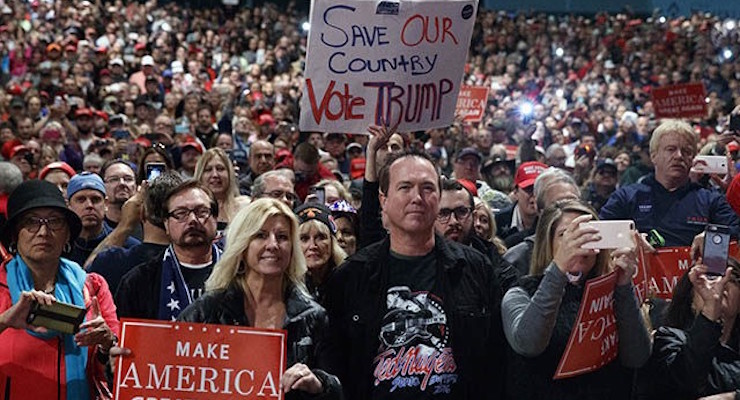 Mrs. Clinton only won 8 counties, including Genesee, Ingham, Kalamazoo, Marquette, Muskegon, Oakland, Washtenaw and Wayne. However, in the Democratic stronghold of Wayne, the state's largest population-wise, he was able to hold down the Democratic margin as he ran up record spreads in rural counties.
With a 289,000-vote lead in Wayne, Mrs. Clinton got 78,884 fewer votes than Mr. Obama and roughly 53,000 fewer votes than John Kerry in 2004. Mr. Trump got 14,449 more votes than Gov. Romney did in 2012.
At first glance it would appear the next Democratic candidate could overcome Mr. Trump's margins in the rest of the state if they perform at historical levels in Wayne County, alone. Mr. Trump only carried the state by roughly 13,000 votes.
But that conclusion foolishly assumes the working class and suburban votes the winner left on the table do not vote in 2020 and, as I'll state one more time, political coalitions do not evolve in a vacuum. We'll have to watch new registrations and party preference changes closely over the next 4 years.
Pennsylvania
Like Michigan, The Keystone State had not gone for a Republican on the presidential level since 1988. Unlike Michigan, no one can blame low voter turnout in Democratic strongholds. Mr. Trump beat Mrs. Clinton, pure and simple.
In Philadelphia, she came out with a 457,000-vote lead, which was down slightly from Mr. Obama's 479,000 and 492,000 in 2008 and 2012, respectively. But that wasn't due to turnout, it was due to voter preference.
She outperformed Mr. Kerry in 2004, a year in which he nearly the lost the state to Mr. Bush and held on by a few thousands votes. Mr. Obama won 85.2% of the vote in 2012 and Mrs. Clinton won 82.4% in 2016. In Allegheny County, which includes Pittsburgh and it's suburbs, she actually received a little less than 16,000 votes more than Mr. Obama.
But Mr. Trump basically flipped the rest of the state, which Mr. Obama only lost by about 270,000 votes. Excluding Philadelphia and Allegheny counties, he clobbered Mrs. Clinton by about 630,000 votes.
As was the case all over the Rust Belt, he flipped counties that previously voted for Mr. Obama in 2008 and 2012, including Erie County. The county voted for Mr. Obama by a 16-point margin but flipped narrowly to Mr. Trump by a 2-point margin.
Considering the demographics, it's very likely that trend could continue. We will talk more about Appalachia in a future edition of this multipart series, but counties classified as belonging to the Appalachia region represent 52 of the 67 counties statewide, which cast 44% of the Keystone vote. They went big for Mr. Trump by just under a half million votes, up significantly from the roughly 176,000-vote lead Gov. Romney racked up over Mr. Obama.
Considering the slide of the Democratic Party in Appalachia, overall, it may become increasingly difficult for them to reclaim Pennsylvania and its 20 electorate votes.
Wisconsin
The Badger State went for a Republican for the first time since 1984, topping the two aforementioned fellow-Rust Belters by a full cycle. This time, it awarded Mr. Trump with its 10 electoral votes by a 1-point margin exactly, or 27,257 votes. That may not seem very significant until you consider it resisted the national trend in an election George H.W. Bush won with 426 electoral votes.
Further, Mr. Trump's win in Wisconsin has more in common with Pennsylvania than it does with Michigan, meaning he changed minds and flipped voters who backed Mr. Obama in significant numbers. In Dane County, home to Madison, and Milwaukee County, she lost only a combined net 1,000 votes versus Mr. Obama in 2012. It was the rest of the state that did her in.
Outside the two vote-rich Democratic strongholds, Mr. Trump beat Mrs. Clinton by nearly 340,000 votes. That's far more than the margin Gov. Romney enjoyed in 2012, which was just under 100,000.
Bottom Line
In part three, we'll take a look at another state in the Rust Belt that was extremely close–Minnesota. The North Star State, or Land of 10,000 Lakes, voted heavily for Mr. Trump on Election Day and Mrs. Clinton's small 1.5-point lead was only saved by early voting. It began on September 23, before the vice presidential debate, the second presidential debate and final debate.
In August, the PPD North Star Battleground State Poll found a close 3-point race, a show of strength for Mr. Trump that eroded until the third and final debate. Had he played in the state, which only PPD identified as a battleground, there is a very good case to make he would have won its 10 electoral votes, too.
We'll also look at Appalachia, a region of the country that helped Mr. Trump carry The Keystone State and The Buckeye State, and one that also backed him overall by a 2 to 1 margin. For the record, we didn't leave out bellwether Ohio, which the New York businessman carried by an astonishing 9 points.
We're just saving it for the discussion on the collapse of the Democratic Party in Appalachia.