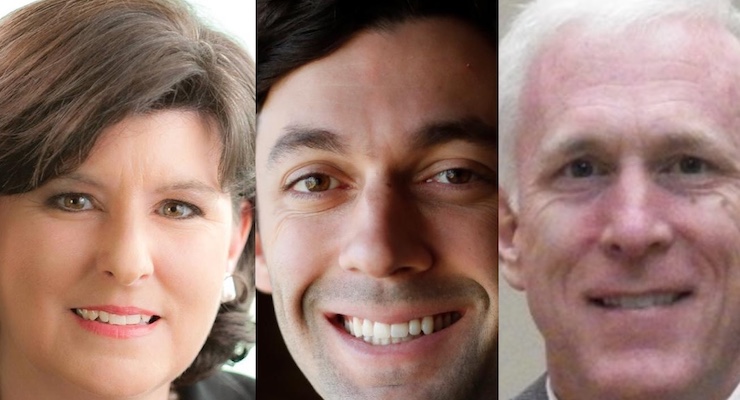 Eighteen candidates filed to run in the special election for Georgia's 6th Congressional District: 11 Republicans, 5 Democrats and 2 independents. Polling showed Democrat Jon Ossoff ahead of a crowded field, while Republicans Karen Handel and Bob Gray are neck-and-neck.
Democrats are hoping Mr. Ossoff reaches 50% in the first round of voting because, if no one does (likely), the top two vote-earners will compete in a runoff regardless of party affiliation on June 20. The district includes Fulton County, DeKalb County, and Cobb County.
Refresh this page for the latest election results starting at 7:00 PM EST.
UPDATE: People's Pundit Daily can project that Jon Ossoff will not reach the needed 50-percent threshold to avoid a runoff with Karen Handel.
Candidate
Party
Votes
Pct.

Gray


Bob Gray


Republican




Rep.

0
0.0

%


Handel


Karen Handel


Republican




Rep.

0
0.0

%


Hill


Judson Hill


Republican




Rep.

0
0.0

%


Ossoff


Jon Ossoff


Democrat




Dem.

0
0.0

%


Moody


Dan Moody


Republican




Rep.

0
0.0

%


Abroms


David Abroms


Republican




Rep.

0
0.0

%


Bhuiyan


Mohammad Ali Bhuiyan


Republican




Rep.

0
0.0

%


Edwards


Ragin Edwards


Democrat




Dem.

0
0.0

%


Grawert


Keith Grawert


Republican




Rep.

0
0.0

%


Keatley


Richard Keatley


Democrat




Dem.

0
0.0

%


Kremer


Amy Kremer


Republican




Rep.

0
0.0

%


Levell


Bruce Levell


Republican




Rep.

0
0.0

%


Llop


William Llop


Republican




Rep.

0
0.0

%


Quigg


Rebecca Quigg


Democrat




Dem.

0
0.0

%


Slotin


Ron Slotin


Democrat




Dem.

0
0.0

%


Wilson


Kurt Wilson


Republican




Rep.

0
0.0

%


Hernandez


Alexander Hernandez


Independent




Ind.

0
0.0

%


Pollard


Andre Pollard


Independent




Ind.

0
0.0

%


Others


Others

0
0.0

%