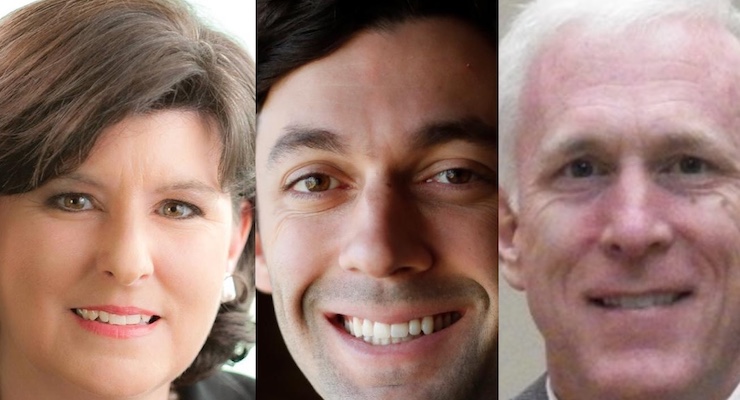 Democrat Jon Ossoff failed to get the needed 50% to avoid a runoff in the special election for Georgia's 6th Congressional District. He will face Republican Karen Handel on June 20 in the typically Republican-leaning Atlanta suburb district that includes Fulton County, DeKalb County, and Cobb County.
Fulton County delayed reporting their precinct totals after a card caused a rare error with the servers. Election officials had to go through hundreds of them until they found the faulty card.
Turnout exceeded the median forecast by roughly about 30,000 votes, but was still much lower than typical cycles. Democrats had hoped President Donald J. Trump, who underperformed significantly in the district, would be a drag on the ticket in an off year. President Trump only edged out Hillary Clinton by less than two points in the district.
Mr. Price, stepped down earlier this year to join President Trump's Cabinet, defeated his Democratic challenger in 2016 by nearly 30 points.
Tuesday night, Trump wrote: "Despite outside money, FAKE media support and eleven Republican candidates, Big 'R' win with runoff in Georgia. Glad to be of help!"
Democrats pulled out all the stops to put Ossoff over the 50-percent threshold to avoid a runoff, spending nearly $9 million in outside money and bringing in celebrities like Samuel L. Jackson and Alyssa Milano to get out the vote. But with more than 80% of precincts reporting, Ossof fell to 48.6% and is now projected by PPD to end up around 46.5%, slightly lower than the adjusted forecast.
Excluding candidates' own campaign money, the special election saw only about one Georgia penny for every $10 in national cash, according to a Center for Public Integrity analysis of federal campaign finance disclosures. Ossoff raised more money than his Republican rivals combined, holding D.C. fundraisers hosted by the Democratic Party in Washington from the beginning.
About $4 out of every $5 dollars Ossoff's own campaign raised was from big-dollar donors—or, those giving more than $200—which come from outside of Georgia. By comparison, just 23% of Handel's big-dollar contributions—more than $200 per donor—came from out-of-state sources. She only raised $421,000 as of April 17.
Without a doubt, it is the most impressive performance for any Democratic candidate in the district, but a divided and contentious Republican field overall will finish with a majority share of the vote. The GOP, which slept on the race while Democrats cranked up efforts into high gear, are already beginning to express a willingness to unify behind Handel, the former state treasurer.
We are going to rally behind Karen Handel. We wish her Godspeed. #GA06 #gapol

— Bob Gray (@BobGrayGA) April 19, 2017
The latest data from the PPD Battleground State Likely Voter Metrics still point to a Republican advantage.