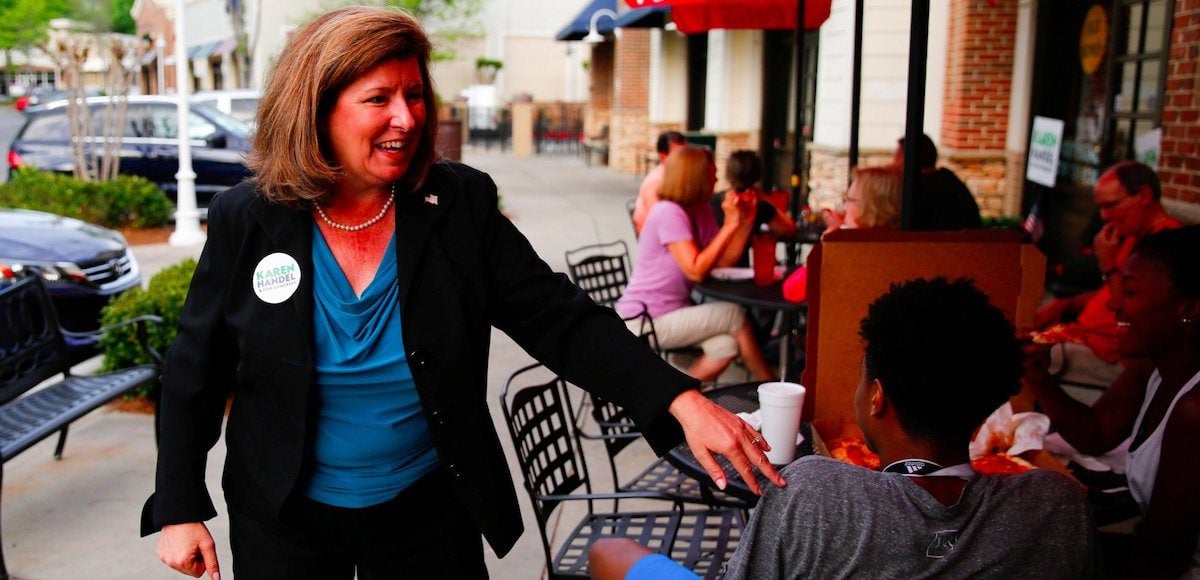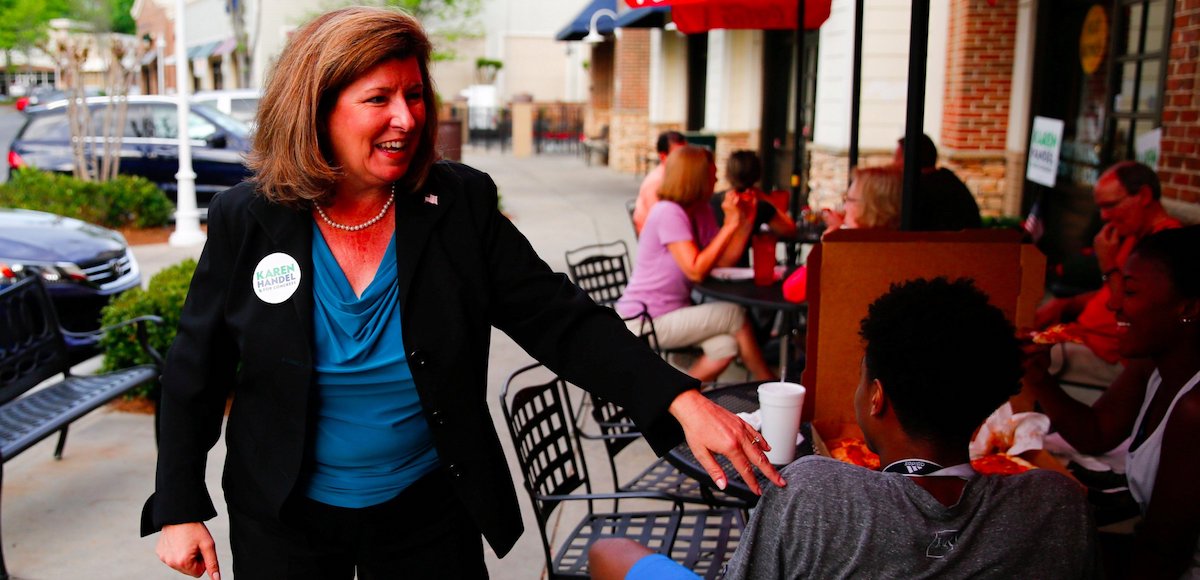 People's Pundit Daily projects Republican Karen Handel has won the special election for the 6th Congressional District in Georgia, defeating Democrat Jon Ossoff. The contest was to fill the seat vacated by Tom Price, who now serves as the Secretary of the Department of Health and Human Services (HHS) in the Trump Administration.
The recently redrawn district includes the Atlanta suburbs and is one of the fastest growing districts in America. Typically Republican-leaning, it includes Fulton County, DeKalb County and Cobb County. Mr. Price overwhelmingly won reelection in November while President Donald Trump struggled to win over more wealthy voters.
"This is a devastating defeat for Democrats, who have lost more than a thousand offices nationwide since Barack Obama was first elected president," said People's Pundit Daily (PPD) editor-in-chief Richard D. Baris, who heads up polling and election forecasts. "There are no moral victories. No one single race in 2018 will receive so much attention and no Democrat running in a wealthy target district will receive so much financial help from D.C. Democrats and national donors."
It was the most expensive election for the House, ever. In only a few months, far less than a typical campaign, candidates and outside groups spent roughly $55 million.
That's nearly double the money spent in the second most expensive contest that took place in Florida in 2012. The campaigns for both Democrats and Republicans raised roughly $28 million, with Democrat Jon Ossoff raising $23.6 million and Republican Karen Handel raising just $4.5 million.
Handel, the former secretary of state in Georgia, successfully and accurately cast her bid as a battle against outside forces trying to "buy" the 6th Congressional District.
"[Voters] are not interested in Hollywood and California coming in and buying this seat," Mrs. Handel, the former state secretary said. "We cannot let up. There is too much at stake."
Individual donations are only revealed when campaign finance filings "itemized" each of their contributions, mostly for those who gave at least $200.00.
Campaign finance filings show only 14% of individual donations to Democrat Jon Ossoff totaling $8 million came from Georgia. The vast majority were from large liberal states like as New York and California. That compares to his Republicans opponent, who raised $2.1 million and received 56% of her individual contributions from Georgia.
With nearly 80% of the precincts reporting, Handel led Ossoff by 5 points, 52.5% to 47.5%. If it was a devastating loss to Democrats, it was yet another devastating loss to pollsters. Only Trafalger Group had Handel winning the race (by a two-point margin), and some pollsters had her down by as much as 7 points.
Democrats have thus far targeted all four special elections this year–including previous contests in Kansas and Montana. While they improved their margins over Hillary Clinton in each, they have lost them all.
UPDATE
"A special thanks to the President of the United States of America," Mrs. Handel said in her victory speech.
The crowd chanted "Trump! Trump! Trump!" in response.
| Candidate | Percent | Votes |
| --- | --- | --- |
| Karen Handel (Republican)  | 52.5% | 116,981 |
| Jon Ossoff (Democratic)  | 47.5% | 105,879 |
222,860 Total Votes